Whether you're an on-duty officer or an extreme adventurer, the best tactical pants for men deliver both comfort and convenience. These are the toughest pants on the market — they're made to withstand harsh conditions and high-energy physical activity, all while providing flexibility and range of motion. That way, you can start each mission or wilderness expedition with confidence.
The right tactical pants depend on your activities. Some pairs come with 10 or more pockets, providing space for holsters, communication gear, and escape tools. Others are made with minimalist designs and lightweight material for hot-weather training and travel. From casual to professional, these are the best tactical styles.
15 Stylish and Functional Tactical Pants for Guys
1. 5.11 Apex Pant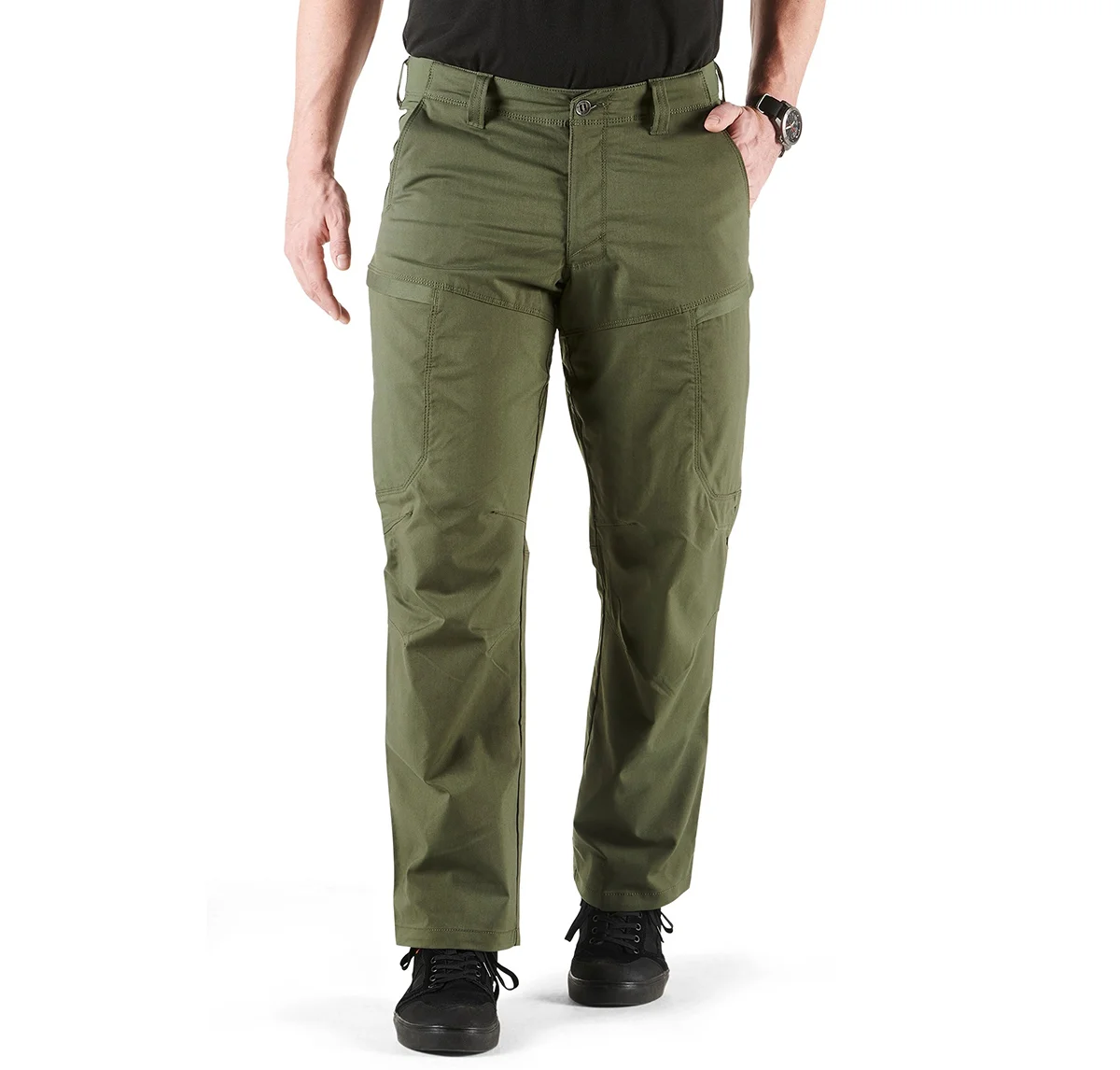 The 5.11 Apex is designed for tactical performance and everyday wearability. It all starts with the low-key design; the classic straight-leg cut and versatile color options look equally appropriate in the field or at the office. A slew of performance features, including curved knees and elastic gussets at the inner thigh and waistband, give you freedom of motion in high-stress, active situations. Keep your knife, key, and magazines in the secure pockets, and slip a handgun comfortably under the flexible waistband accommodates. Feel free to wear these popular tactical pants for guys in the backcountry — they're coated with Teflon for maximum durability in dirty or wet environments.
See more: 511tactical.com
2. Men's UA Storm Tactical Patrol Pants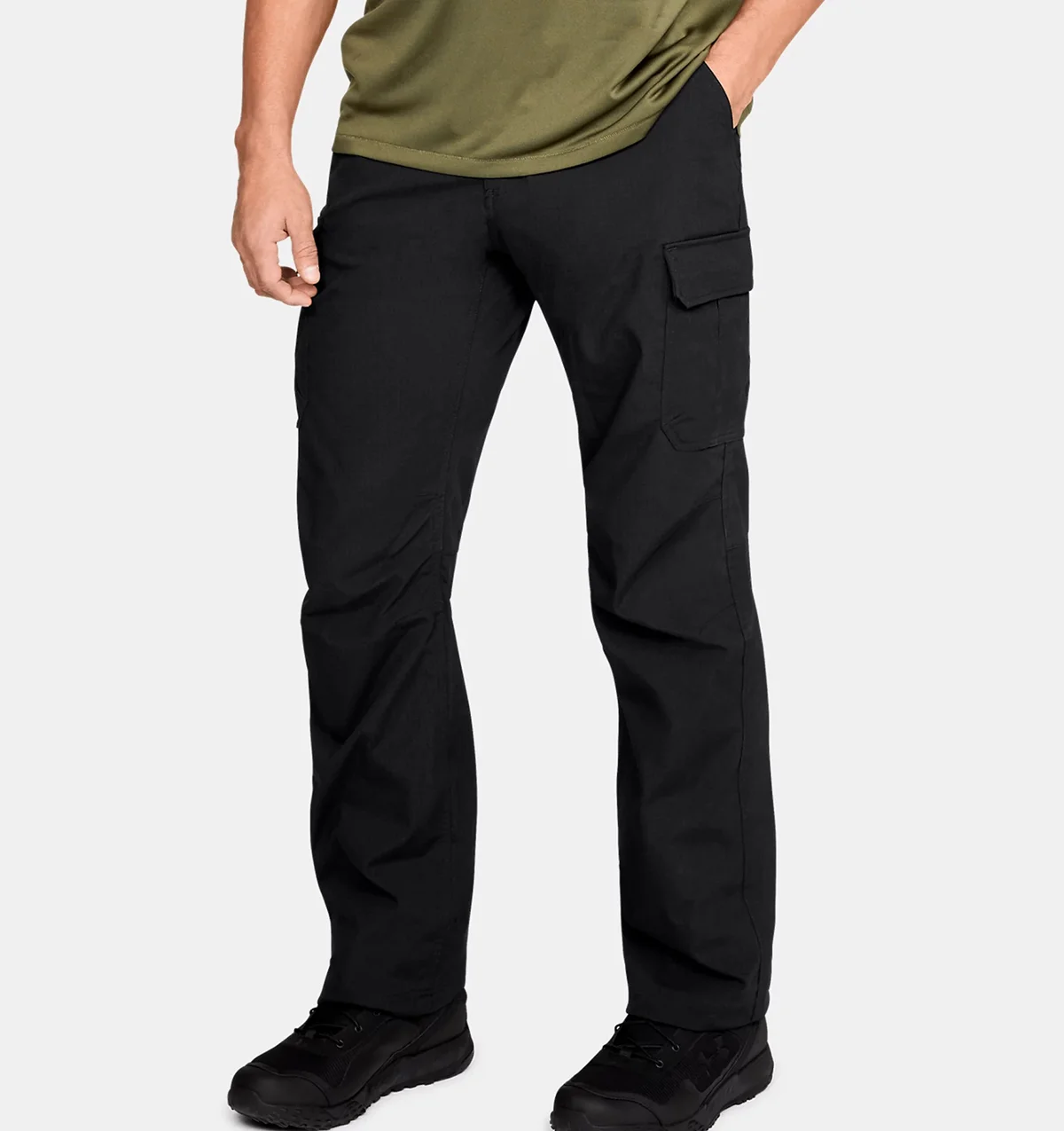 When you work in a fast-paced, high energy setting, you need pants that are up to the task. The durable UA Storm Patrol best tactical pants for men on the move. The secret is the heavy-duty fabric; it's engineered to prevent rips and tears, whether you're tackling brushy terrain or harsh industrial settings. Do you ever spend time in wet weather? Rely on the UA Storm fabric to repel water and dry quickly. The fabric retains its softness and stretch even when wet, so you can move comfortably at all times. Loose-cut legs and a flexible waistband reduce restriction when you're behind the wheel or sitting at a desk. When you're carrying a weapon, the tactical belt loops and interior magazine holders have your back.
See more: underarmour.com
3. Renegade Cargo Conv Recco Pant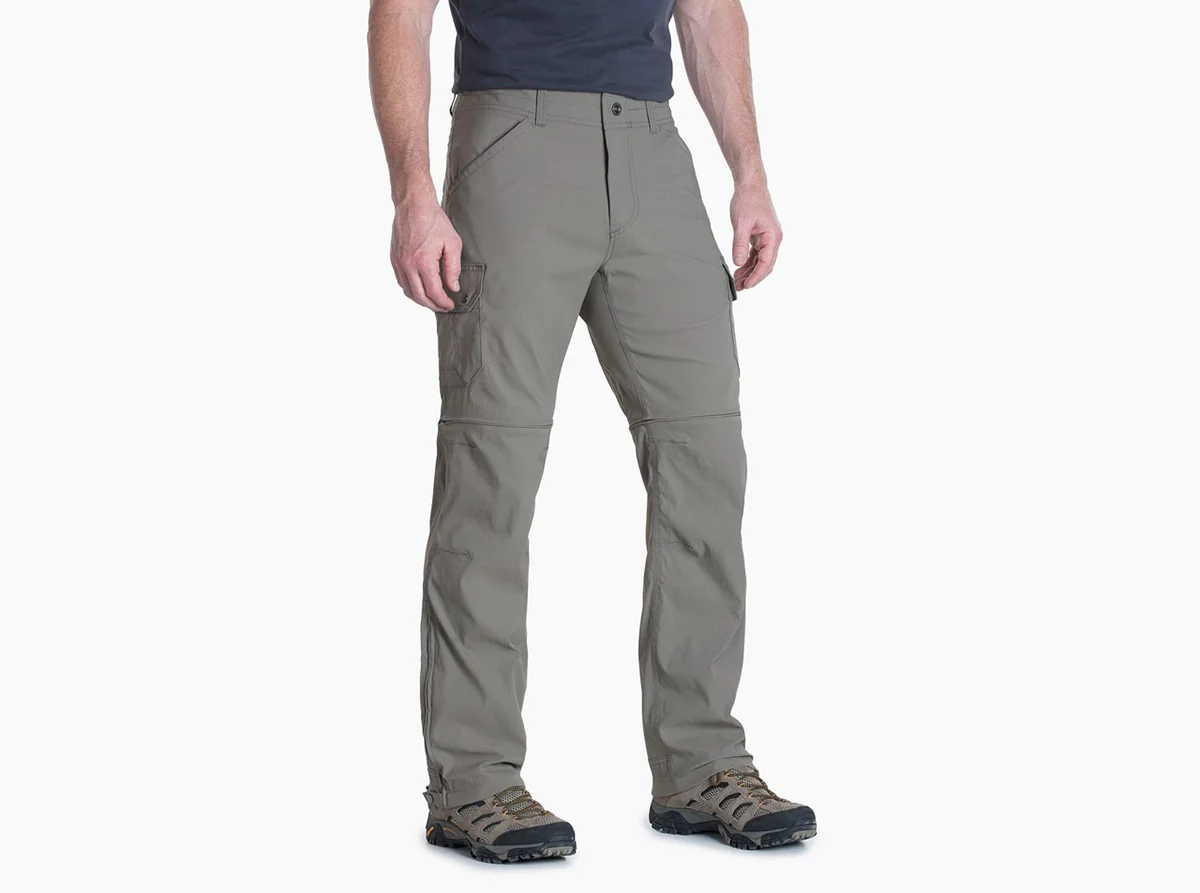 The Renegade Cargo Conv Recco pant combines the flexibility and comfort of hiking clothes and the high-performance features of tactical pants. They're some of the top tactical pants for travel — the lightweight Duralux material looks fresh after a long flight or a sweaty bus ride. Spandex fibers in the fabric stretch for comfort and recover quickly to prevent unsightly sagging. If you hate traditional zip-off pants, give this pair a try; Kühl's Stealth design eliminates the flap for a neater aesthetic. Lots of pockets help you stay organized in the field or on the road. When you're in the wilderness, integrated RECCO transponders make it easier for rescue workers to find you in an emergency.
See more: kuhl.com
4. 5.11 Ridgeline Pant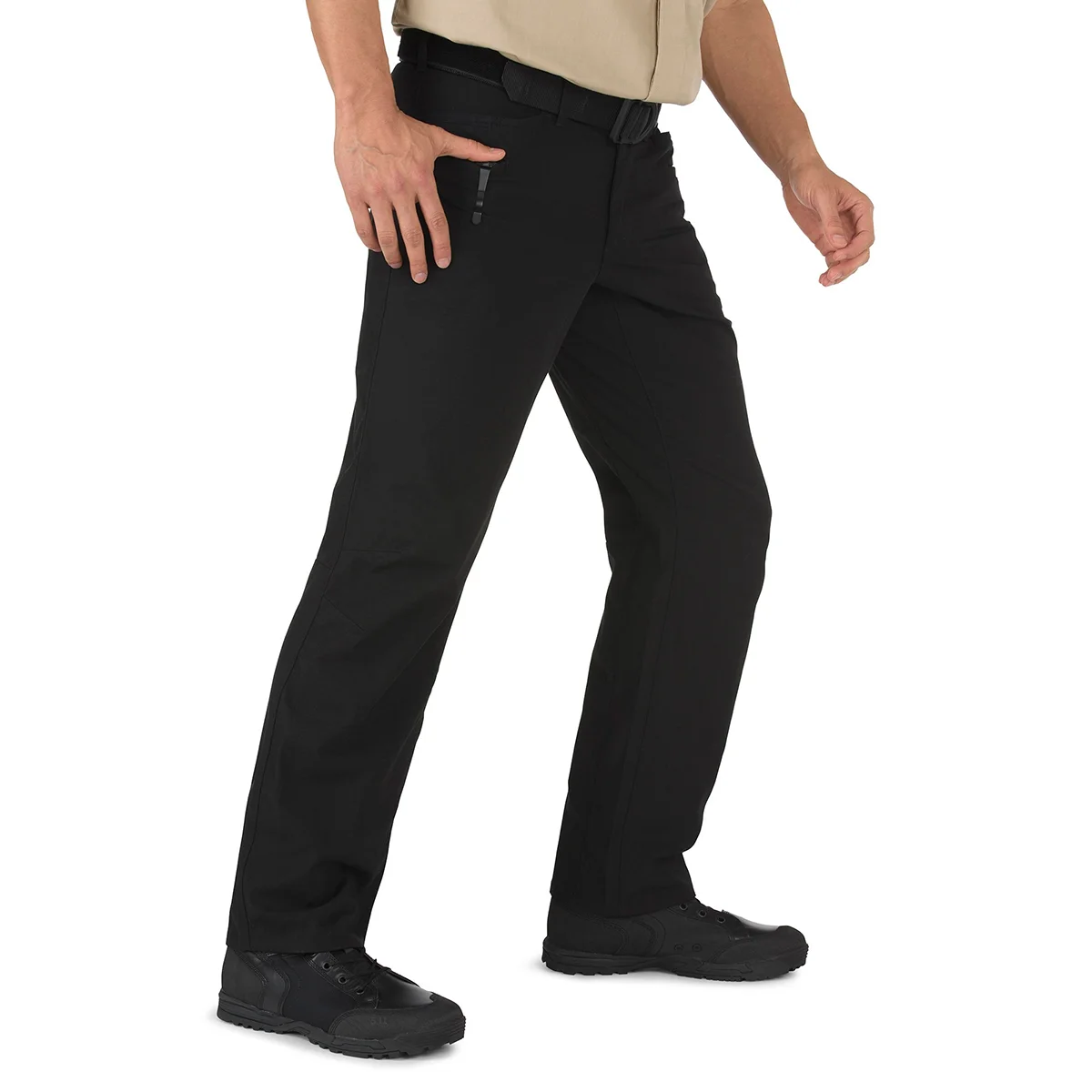 Keep a low profile without sacrificing performance in the Ridgeline pants from 5.11. On the surface, they look like casual, relaxed-fit pants. The most important features are under the surface: comfortable gussets for easy movement, a water-repellent Teflon coating, and reinforced stitching where you need it most. Made with stretchy Flex-Tac fabric, these pants won't dig when you're seated for long periods of time. Wear them for a low-key appearance during covert operations, or take advantage of the comfortable fit on hikes or backcountry fishing trips. Cordura-edged front pockets provide stability and wear-resistance, so you can carry a fillet knife or multi-tool with ease.
See more: 511tactical.com
5. Force 10 AC Cargo Pant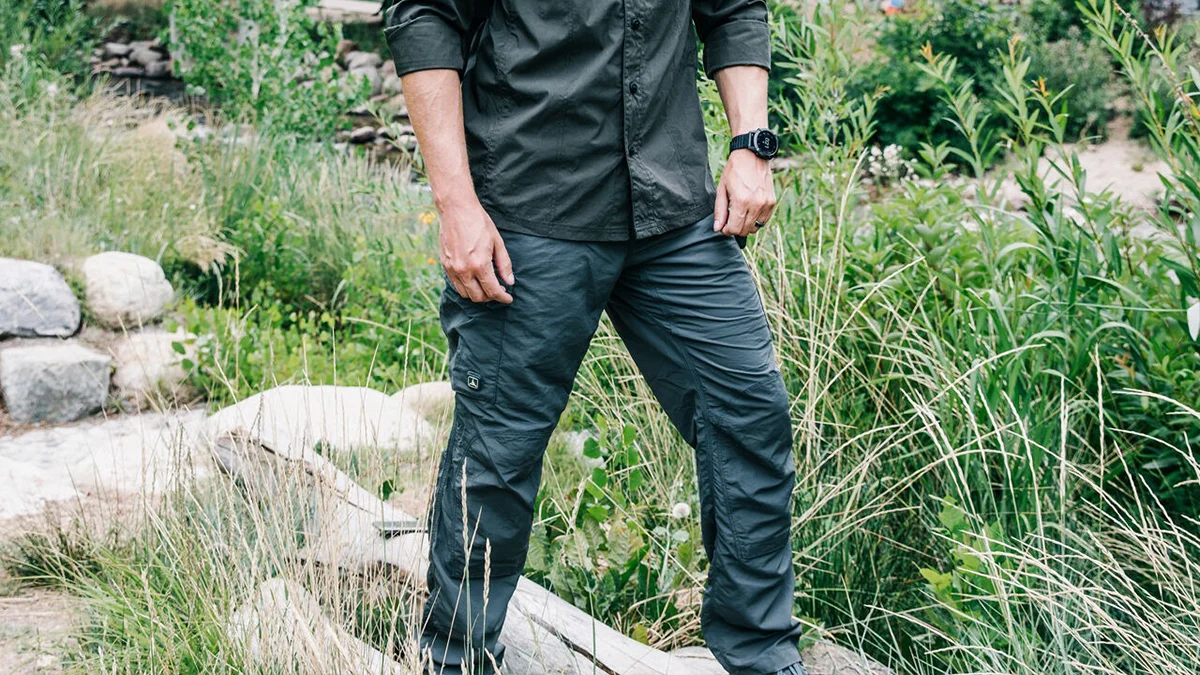 If you like to invest in fewer, high-quality pieces, the Force 10 AC are among the best tactical pants for men. These pants are designed to take a beating — the seat, knees, and crotch come with heavy-duty reinforcements to prevent tearing when you're rock climbing, camping, or bushwhacking. Custom-sized compartments at the knees accommodate T-Pro knee armor for extra protection during adventure sports or physical tasks. D-rings provide a convenient anchor for a roll of paracord, and a wealth of pockets make it easy to organize crucial safety and survival supplies. When you're fording a river or hiking through a stream, the quick-drying fabric and integrated drain grommets are a lifesaver. Each leg features a cut that's slim but relaxed for a streamlined, modern style.
See more: tripleaughtdesign.com
6. Helikon-tex Outdoor Tactical Pants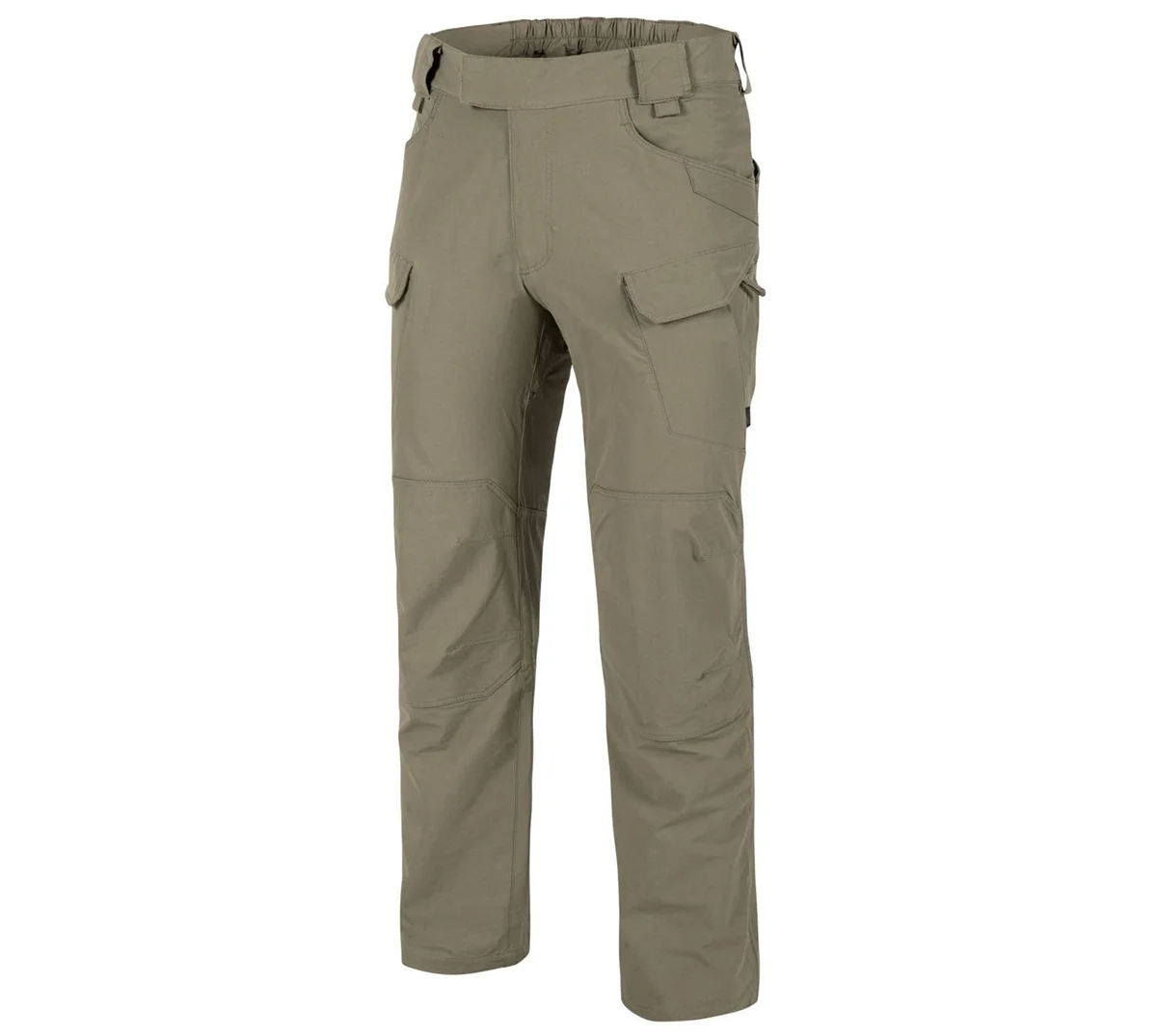 Feel comfortable and prepared in the backcountry when you're wearing the outdoor tactical pants from Helikon-tex. Constructed from go-anywhere nylon-elastane fabric, they're impressively lightweight, breathable, and fast-drying. Mesh pockets ensure constant airflow, reducing odor build-up and helping you feel fresh after a few days on the trail. These are some of the best tactical pants for men who prefer to keep a low profile; they look like outdoor pants, but they're tough enough for intense activity. Slip pads inside the knee pockets for extra protection, and rely on the pleats for comfortable kneeling and bouldering. Pockets with zippers and hook-and-loop flaps prevent gear from falling out when you're hiking or biking.
See more: helikon-tex.com
7. Men's UA Storm Covert Tactical Pants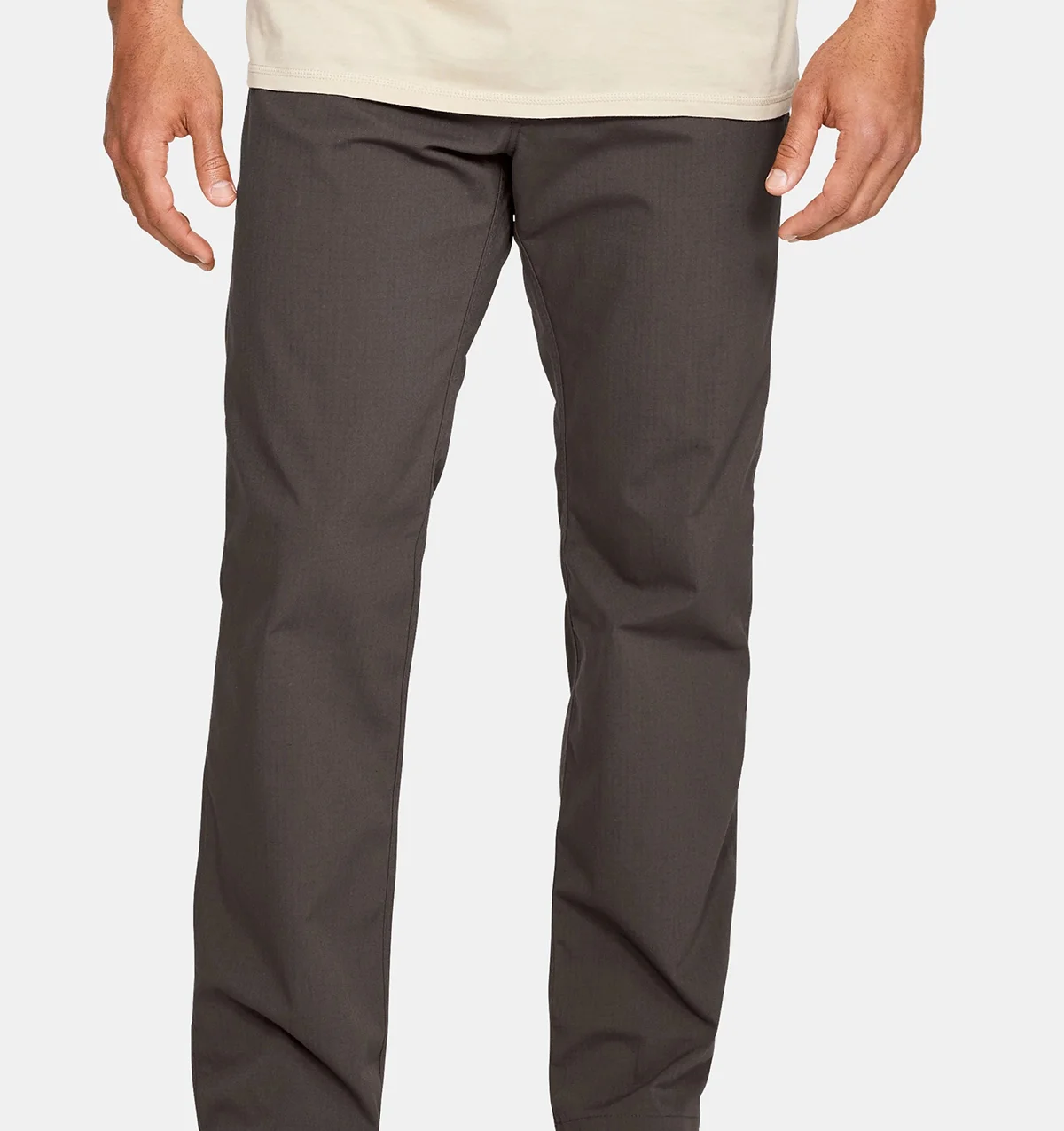 At first glance, the UA Storm Covert Tactical pants look like classic wear-anywhere slacks. The straight-leg profile and minimal detailing are sleek enough to fit in at the office, and the versatile color pairs perfectly with a polo. Look closer, however, and you'll discover tactical features like ripstop fabric and belt loops that are positioned to accommodate a holster. When you're on an adventure or a covert mission, the elastic fabric makes it easy to bend and flex in any direction. Don't stress if you're caught in a storm; the Under Armour Storm fabric dries in no time.
See more: underarmour.com
8. Striker HT Combat Pants
Beat the heat in the Striker HT, the best tactical pants for men who work or play in extreme temperatures. The secret is the built-in cooling system, which uses strategically placed mesh panels that let cool air in and hot air out. In true combat-pant style, this pair is built for professional operations — Schoeller-Dynamic fabric panels on the seat and knees ensure a full range of motion, while the UF PRO knees place three layers of protection between you and the hard ground. You can even zip in a Windstopper lining when the weather turns. Fourteen pockets keep everything in its place, so your mag or flashlight is always in easy reach in a tense situation.
See more: ufpro.com
9. GoRuck Challenge Pants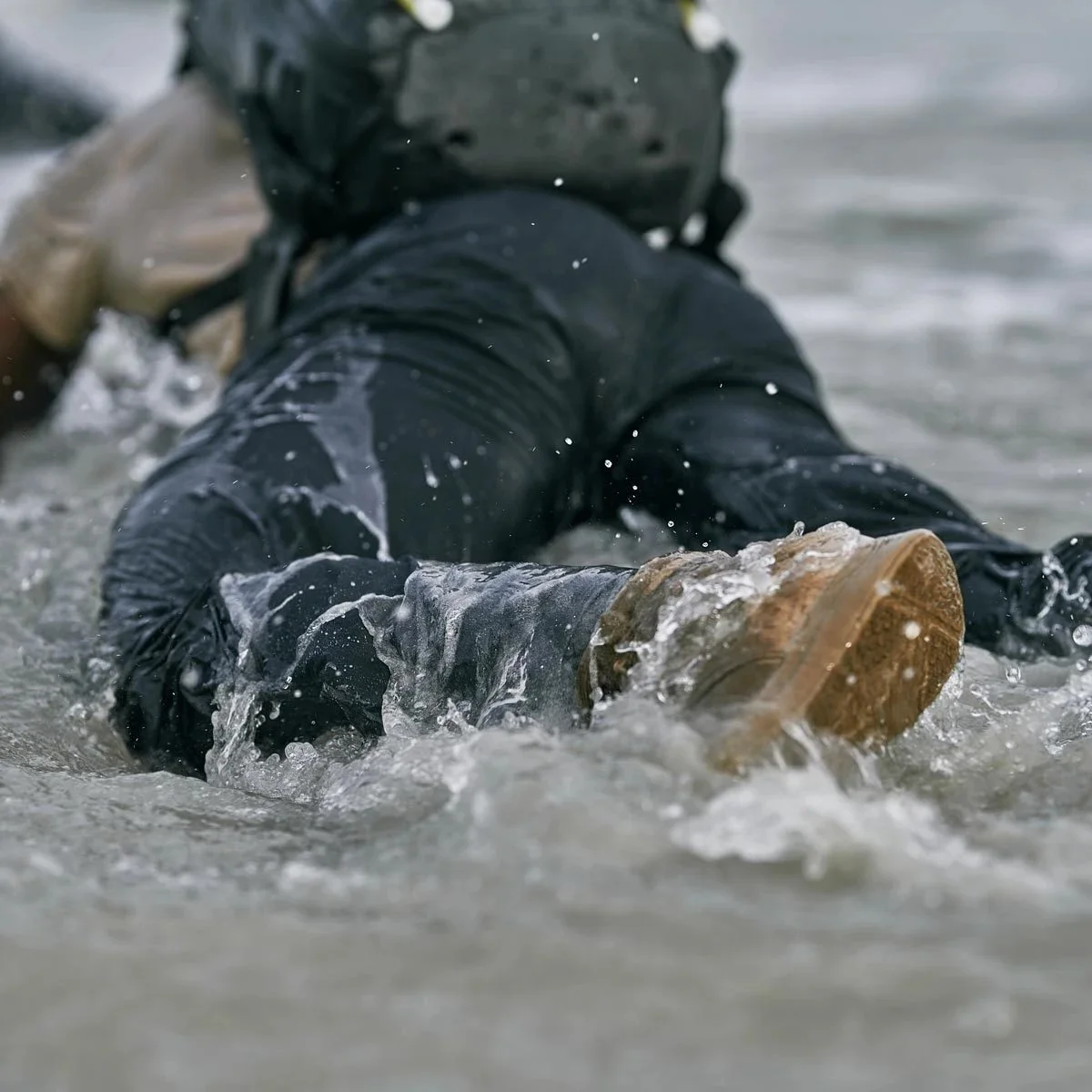 The best tactical pants for men are lightweight and durable, and the GoRuck Challenge pants don't disappoint. The technical nylon-Spandex fabric is light and flexible for comfort on hot days and wet conditions. It's made with a special cross-hatched weave that's resistant to rips and tears — a benefit when you're walking in dense undergrowth or rocky canyons. Curved knee seams and a gusseted crotch add the extra mobility that's essential for intense physical challenges. Lightning-fast drying times give you the confidence to trek through a stream or into the rain. The simple, sleek design won't attract attention on your way to an adventure.
See more: goruck.com
10. Cat Trademark Pant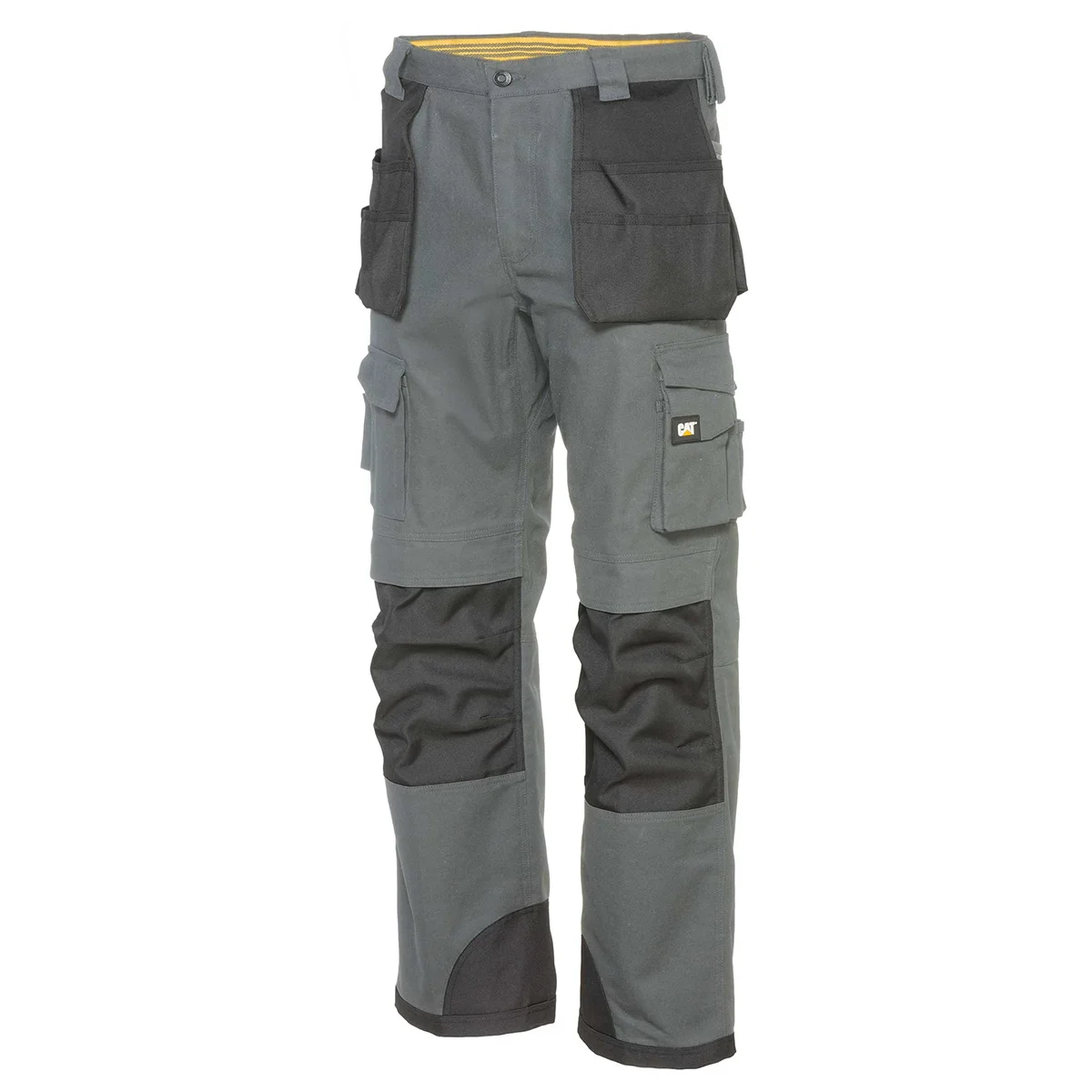 CAT is one of the most trusted names in heavy-duty work wear, and the Trademark pants live up to the company's reputation. It's all about the C2X fabric; this thick, ultra-durable blend of cotton and polyester shields your skin from all manner of substances and sharp objects. Articulated Oxford panels on the knees provide wear-resistant reinforcement and extra room to move. An understated compartment holds padding, ensuring that you can kneel for hours on the job without discomfort. Convenient, oversized pockets on the hips, thighs, and seat provide space for everything from a wrench to a cell phone, eliminating the need for a separate backpack or tool belt. To help prevent the pants from sliding down, there's a handy gripper on the inside of the waist.
See more: catworkwear.com
11. Travail 2.0 Tactical Pants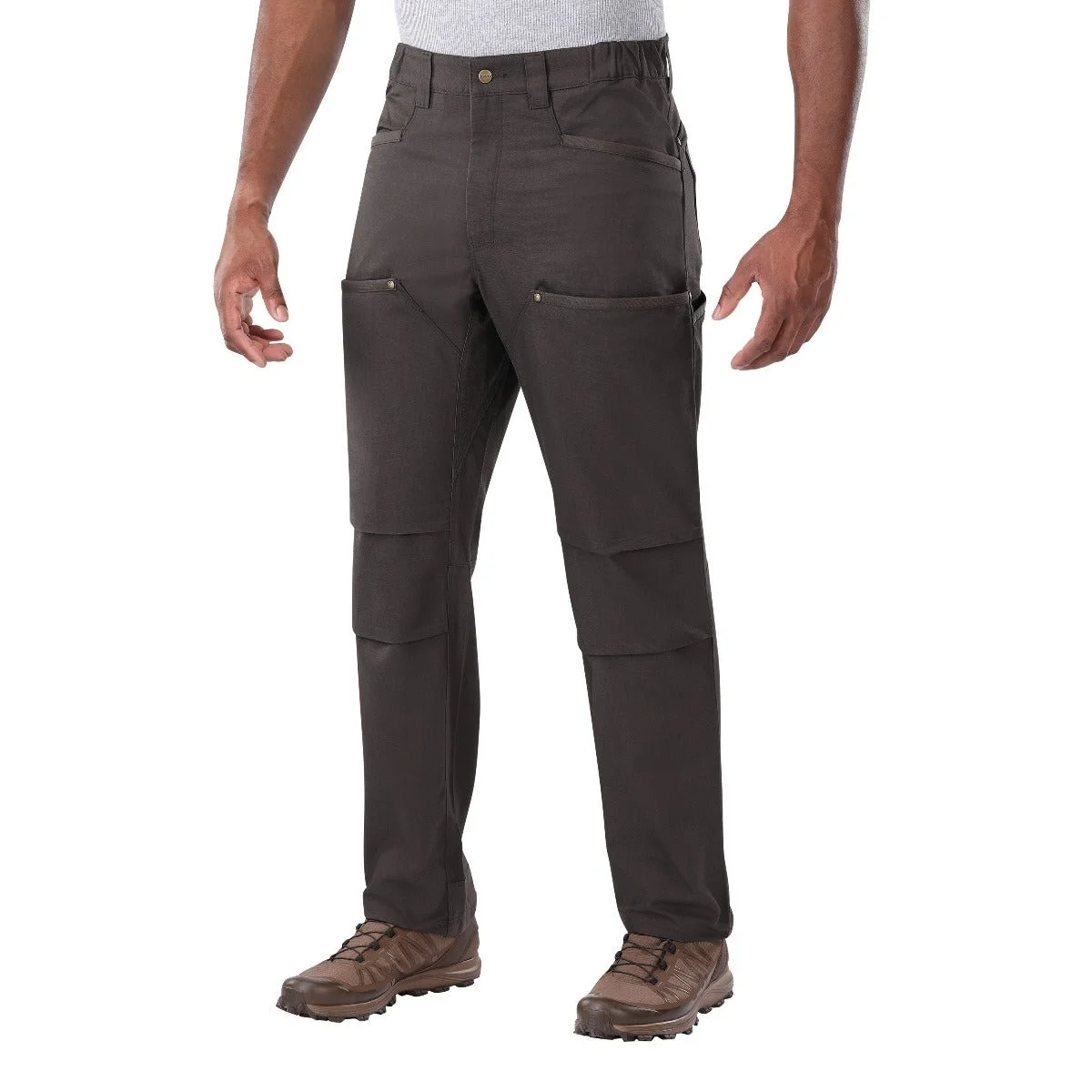 If you've ever struggled to get comfortable in some of the most popular tactical pants for guys, check out the Travail 2.0. They're put through an enzyme wash that makes the fabric feel soft and worn in from day one. The back of the waistband is higher than the front, ensuring full coverage and protection when you're kneeling, bending, or climbing. If your work requires a holster, you'll love the low-slung, easy-access thigh pockets and internal mag compartment. A few of the 16 pockets are hidden, so you can keep an egress tool or an escape stick on your person for use in emergency situations. Pocket anchors and ports for communication gear or tourniquets make these some of the top tactical pants on the market.
See more: vertx.com
12. Beyond A5 Brokk MS Pant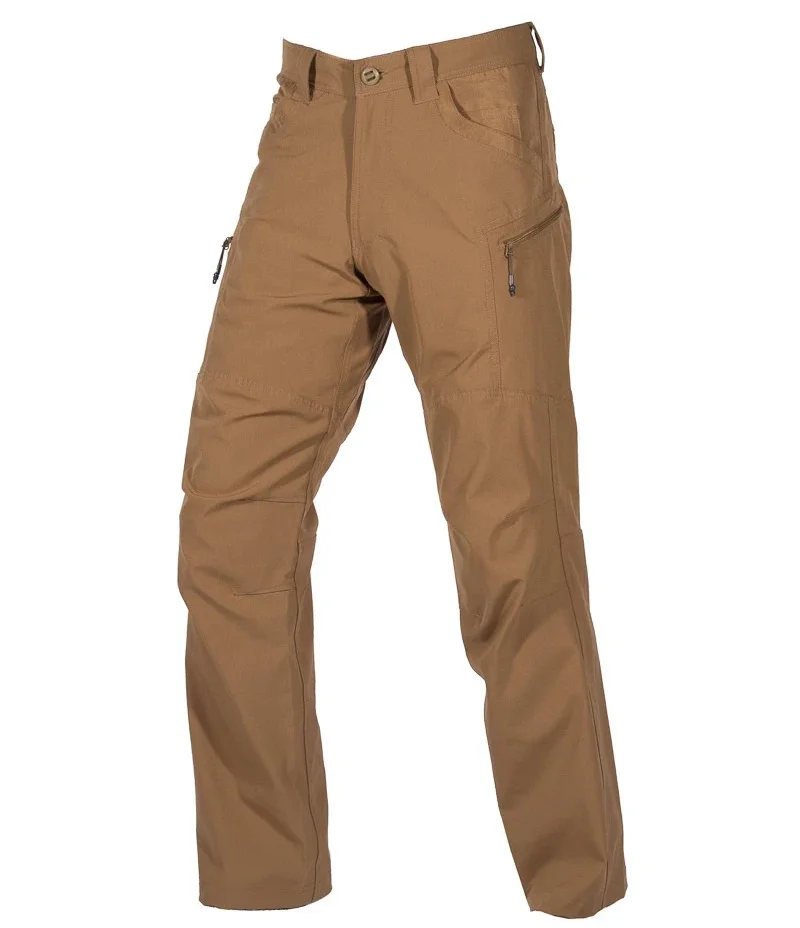 Intense activities and hot weather are no match for the A5 Brokk MS. Made from durable Tweave Durastretch, these pants can take the heat. The fabric is breathable and wicking to prevent a buildup of moisture and warmth. It's also wind-resistant, which is handy when you're hiking across an exposed cliff or working in cold conditions. Understated pockets in the thigh provide lots of storage when you need it and a streamlined appearance when you don't. Thick belt loops and roomy leg openings offer the freedom to wear heavy belts and thick boots. The A5 Brokk MS are among the best tactical pants for men in terms of versatility; you'll feel comfortable wearing them on a hunting trip or leading a search-and-rescue effort.
See more: beyondclothing.com
13. 5.11 Stryke Pant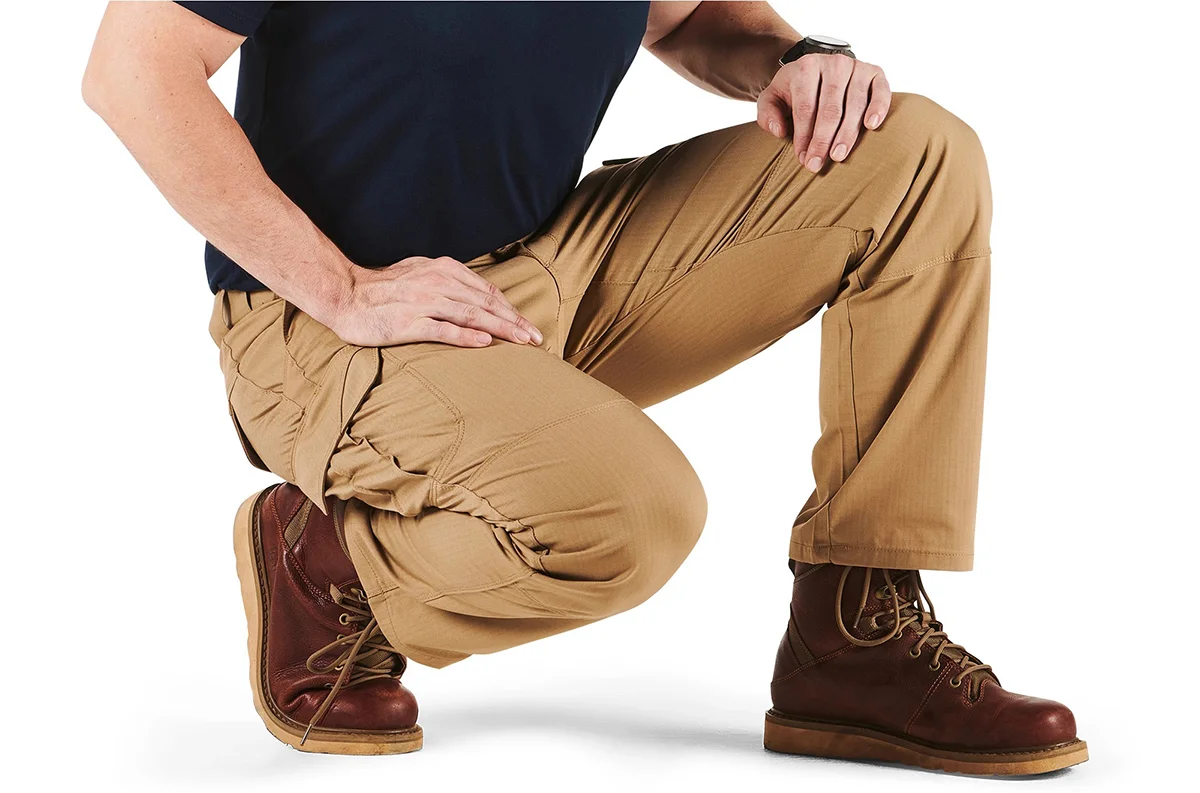 The Stryke pants from 5.11 offer high-performance at an affordable price point. Gussets and articulated knees give you full lower-body mobility, and 12 pockets keep essential tactical gear within arm's reach. Badge holders on the belt loops display your credentials in full view. With the unique Flex-Tac fabric, you'll emerge from an intense day in the field looking professional and pulled-together. The unique weave offers two-way stretch and exceptional, wrinkle-preventing recovery, while the Teflon coating keeps stains and dirt at bay. Choose from a wide range of colors to suit your work and personal tasks.
See more: 511tactical.com
14. Vertx Recon Pants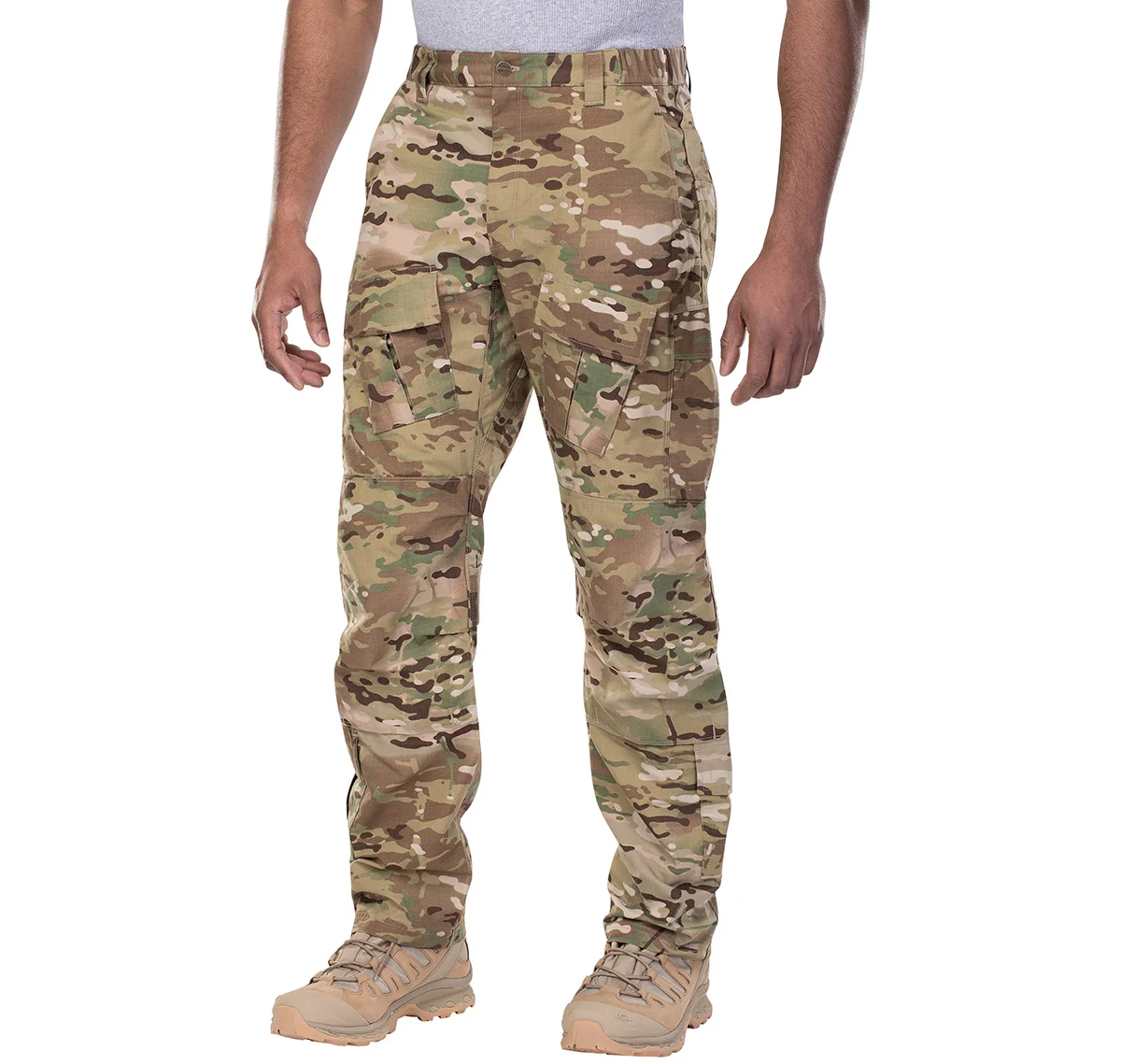 Available in a striking camouflage print, the Vertx Recon pants help you keep a low profile in a range of outdoor settings. Every component is engineered to maximize mobility, from the elastic sections at the side of the waist to the angled calf pockets. These are popular tactical pants for guys with varied professional duties, partially due to the knee pad compartment. It features hook-and-loop straps for a custom fit. Multiple oversized pockets provide ample space for everything you need to carry on the job or on a mission. The convenient triple-bellow design allows easy access and helps prevent the side panels from catching on objects as you walk.
See more: vertx.com
15. Tru-spec Men's Original Tactical Pants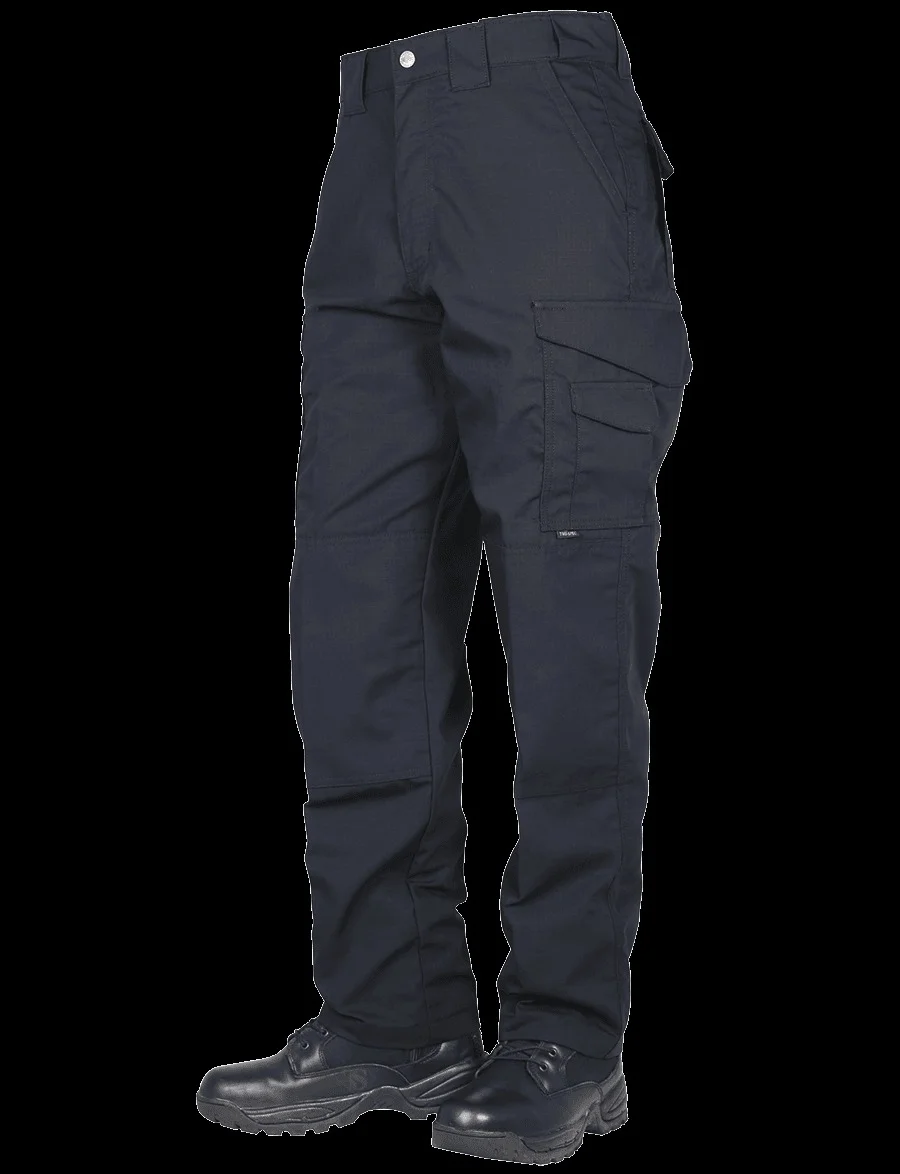 When you're in the field, comfort shouldn't be a concern. That's why the Tru-spec Originals are some of the top tactical pants; they ensure that you can stay focused on the task at hand. Features including a wide, elastic-slider waistband, relaxed-fit legs, and water-repellent fabric work well in a wide range of conditions. Transport two blades in the dual knife pockets; there's also space in the cargo pocket for a concealed-carry situation. Hook-and-loop flaps ensure that your gear stays safe, even when you're moving fast. If the day's duties call for it, you can slip knee pads inside the reinforced panels for safety and comfort.
See more: truspec.com
FAQ About Tactical Pants for Men
Who makes the best tactical pants?
It's possible to find great tactical pants from a variety of manufacturers, but when it comes to selection, performance, and value for money it's hard to beat Vertx pants. Each of the company's tactical styles are designed with clever features that help you stay prepared in any situation. Take the Travail 2.0 pants — hidden in the fly, there's a tiny pocket that's big enough for escape and evasion tools. If your job or lifestyle puts you in harm's way, this small feature makes a big difference. Do you need a more low-key pair of tactical pants? Under Armour makes a few exceptional pairs. The Storm Covert pants, in particular, make it easy to blend into virtually any environment.
Are tactical pants good for hiking?
Many tactical pants are great for hiking. The trick is to find styles made from lightweight, technical fabric. This type of material tends to be comfortable and quick to dry, so you can stay comfortable in a wide range of weather conditions. If possible, look for pants made with wicking material; it pulls sweat away from your skin as you hike, reducing the risk of chafing. Some good examples are the GoRuck Challenge pants and the Under Armour Storm pants. In cold weather, you can add form-fitting base layers to provide extra warmth as needed.
Are tactical pants waterproof?
Most tactical pants are water-repellent or water-resistant rather than waterproof. If a pair of pants are labeled water-resistant, expect a low level of moisture protection. These types of tactical pants are usually best for dry days and hot weather. Water-repellent tactical pants are most common; they usually come with a coating that causes water to bead up and roll off the surface before it can sink into the fabric. They offer a pleasant combination of rain protection and breathability, so you don't have to worry about excessive heat or sweating. Waterproof pants, which are less common, prevent moisture absorption completely. Choose these styles if you're working around water, snow, or intense storms.
What are the best combat trousers?
The best combat trousers are the Striker HT from UF PRO. These high-performance pants are designed for people who work in the most demanding, physically challenging fields. Part of the magic lies in the construction, which uses a variety of fabrics to increase mobility and wear-resistance. Add in the innovative cooling system, and you have pants that are comfortable even in the harshest climates. Thoughtful features like the boot hook and lower-leg zipper help you create a secure fit with a range of footwear. During long, harrowing days in the field, these pants come with all of the pockets and compartments you need to feel fully prepared.
What's the difference between cargo and combat trousers?
The terms "cargo" and "combat" are often used interchangeably to describe the same type of pants. The cargo-pants category includes both casual and tactical styles. Traditionally, cargo pants feature large pockets on the thighs; tactical versions usually come with additional pockets on the hips, seat, and calves. Many tactical manufacturers use the phrase "combat trousers" to refer to the highest-performing pants. They are available with and without cargo pockets, and often come with military-inspired specialty features such as external knee protection. Combat pants come in camouflage and solid colors.
Take on Any Outdoor Adventure with these Tactical Pants
Every pair of tactical pants comes with a custom set of features; that way, you can find the right pair for a law-enforcement job or a weekend adventure. Whether you're going through a challenging training session or conducting a covert operation, it's a breeze to find pants that suit the demands of the day. Most styles are made to move with your body, providing the free, unfettered range of motion you need in a physical, high-stress situation. When your closet is stocked with the best tactical pants for men, you'll be prepared for any task or challenge the day brings.