Summertime offers many new adventures for people and having sunglasses as protection makes a huge difference. While the best sunglasses for men can protect the eyes from harmful UV rays and cover up tired eyes, this simple accessory also makes a major fashion statement. Perhaps that is why there are so many different brands and styles nowadays to choose from.
These sunglasses can be bold, classic, and even irreverent, but what you buy will depend on what your needs are. Some will suit vacations better, while others provide a more professional look for business trips. No matter what your style preference is, make sure that you invest in the top-rated sunglasses to get the best quality.
15 of the Coolest Sunglasses Brands for Every Style
1. Maui Jim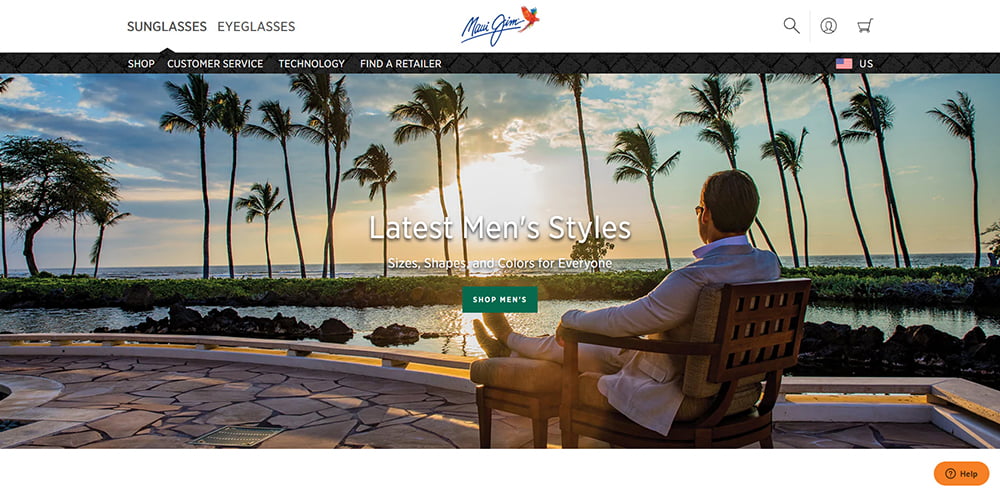 Visit website: mauijim.com
Maui Jim sunglasses are one of the best sunglasses for men in the world. Once you try on these sunglasses, you will realize they are so much different from a conventional pair, especially in the transition from outdoor to indoor use. Rather than darkening while indoors, they enhance the things that you see as they protect your eyes. For example, if you are looking out through the window, you will be able to see the blue sky or the green grass. These colors will appear more vibrant than it would be with your naked eye. The frames are made in Italy and Japan, making them very high quality. They are also comfortable and effortless to wear.
2. Ray-Ban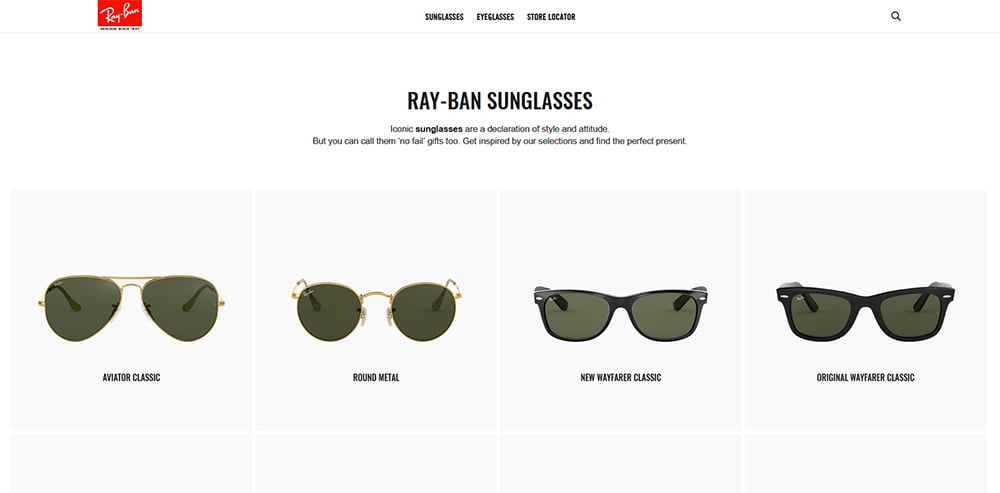 Visit website: ray-ban.com
Ray-Ban sunglasses have a classic and timeliness look. With their versatility, you can wear them at a casual meeting or a professional work event in a suit.
If you need shades and still look ready for a business lunch or travel, there's the RB3183 Metal, which offers style without being overly fancy. If you want to wear sunglasses hiking, you can settle for the Outdoorsman II, offering a double bridge with interesting details. The Sporty RB3364 Rectangular is another suitable frame for outdoor activities, especially for fishing – they reduce glare from the reflection of water.
3. Carrera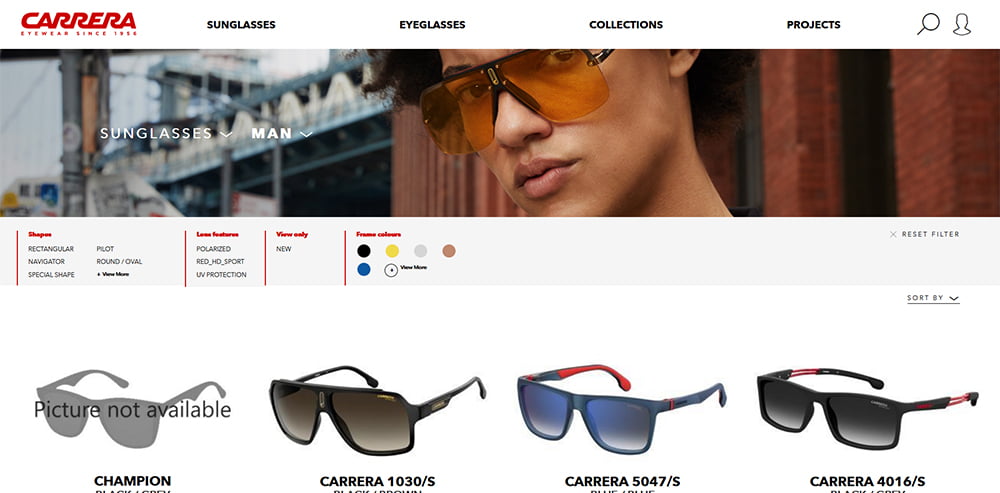 Visit website: carreraworld.com
Carrera began making sunglasses in 1956. While the new headquarters are in Italy, the sunglasses are made in China with plastic for a pliable frame. With frames that fit all head shapes and sizes, these shades are very light and comfortable to wear for a long time, though they are just as easy to carry around for intermittent wearers.
With a variety of styles, consumers can choose from classic shapes (like aviators) or more unique designs. Take the Carrera 150s – with a Carrera logo printed on the top left corner, users will notice the high-quality metal hinges and the accent on the outside temple.
4. Oakley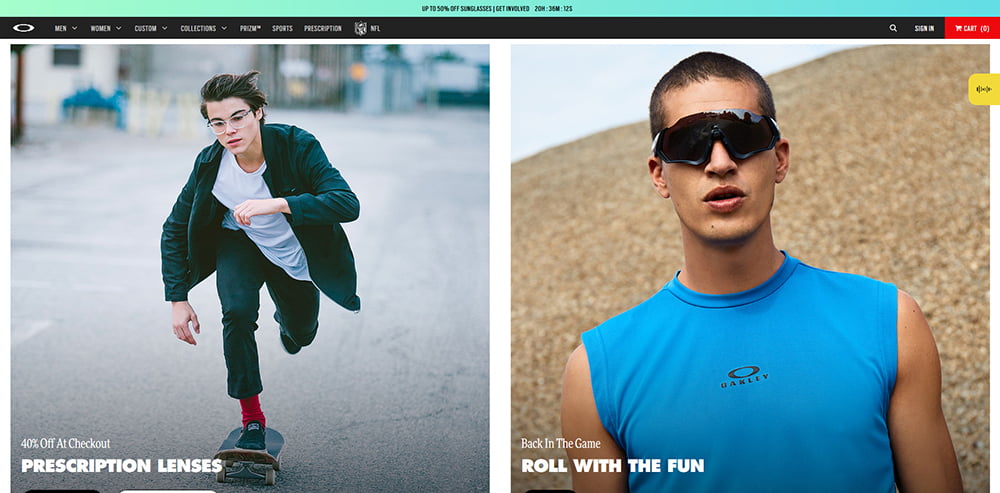 Visit website: oakley.com
The Oakley Prizm lens technology makes everything in your environment pop with vividness and makes details easy to pick up on, giving users a much more unique design than some other brands. These sunglasses have an unobtanium grip, which means that they will get stickier and tackier as you perspire. The nose pads help to keep the glasses in place during sports, while the O-matter frame material is highly impact-resistant. Again, if you are going to be using these for sport, impact resistance is a necessity.
Some people might also require this in everyday sunglasses, especially if you are constantly dropping your sunglasses or sitting on them. Oakley sunglasses are one of the options on this list that allow users to add a prescription, making them one of the best sunglasses for men with corrective lenses.
5. ic! Berlin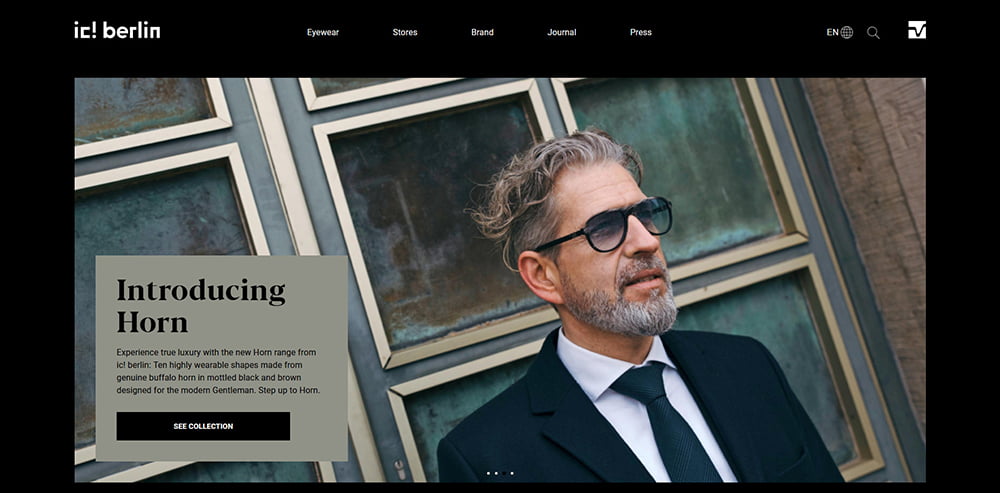 Visit website: ic-berlin.de
ic! Berlin offers stylish sunglasses with a classic look for both formal and casual outfits. The sunglasses come in a variety of arm styles and lengths, so they can fit any face shape. The snug fit will allow you to move around and participate in physical activity without the risk of dropping them. Still, as snug as they are, they are comfortable and won't cause the headache that lesser brands might.
The sunglasses are lightweight, making them pretty comfortable to wear. However, they do not have screws and therefore easy to open and close.
6. Persol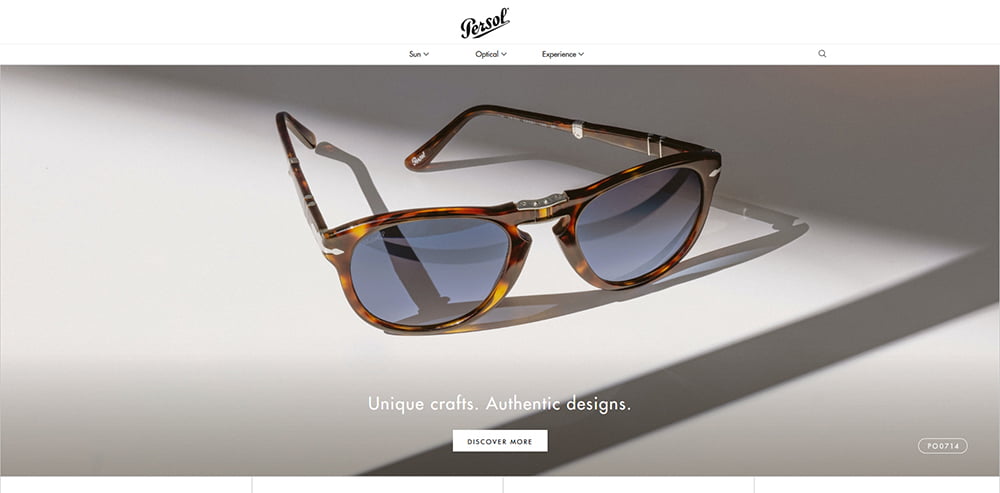 Visit website: persol.com
Persol carries some of the best sunglasses for men. The sunglasses are iconic, ever since Steve McQueen wore them. Jay-Z, Ryan Gosling, and Leonardo DiCaprio also big fans of Persol these days, which just further demonstrates how high in quality that these sunglasses are.
Much of the reason for its popularity is due to the flattering shape for men of all ages. If you are younger, they make you look more mature. If you are older, they make you look vintage and seasoned.
They have proven to be one of the more versatile sunglasses, wearable in any scenario. All frames are made of hand-polished acetate and have a maflecto system which makes them comfortable.
7. Randolph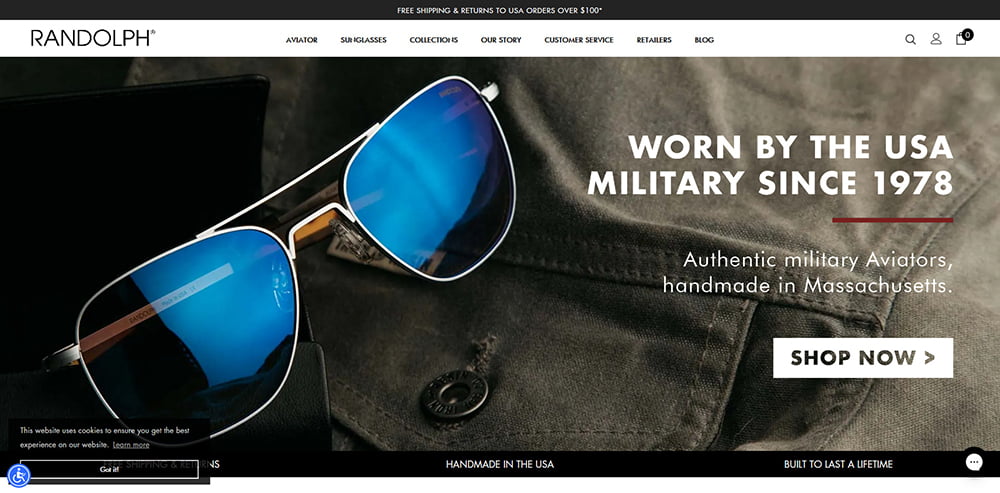 Visit website: randolphusa.com
Customers everywhere seem to have a lot of love for Randolph sunglasses, and it is for a good reason. They are understated, light, and exude high-quality chicness. They can fold flat, making it easy to carry them in your pocket, but they also come in a protective case where you can put them. Whether asleep, traveling, or getting ready for the day, they are easy to pack away without worrying about them getting destroyed.
You can open the sunglasses quite easily and will not worry about its hinges falling off. The company uses a screw locker to make sure that this does not happen. If you're looking for a more utilitarian design, this brand of top-rated sunglasses may suit you best.
8. Oliver Peoples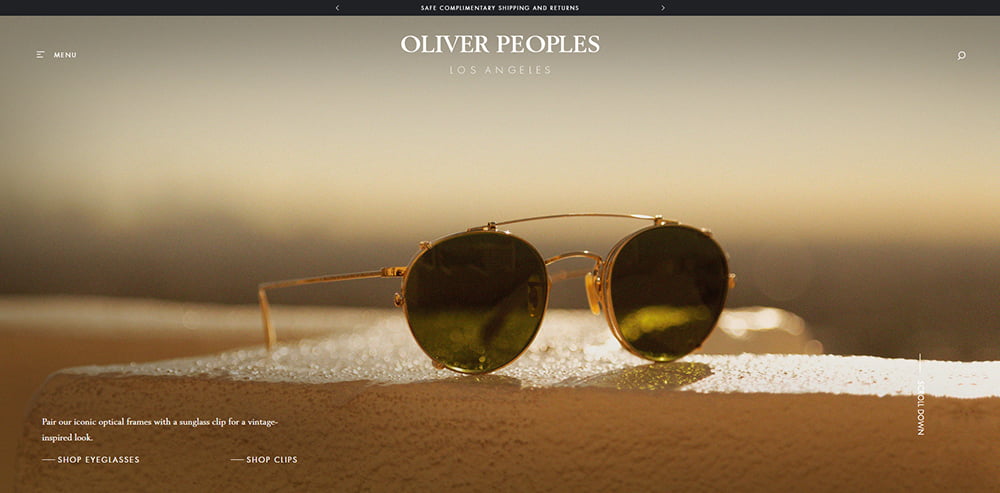 Visit website: oliverpeoples.com
Oliver Peoples sunglasses are classic and timeless, instead of vintage or retro. They are made with fine material and considerable care. Instead of traditional three-barrel hinges, Oliver People's sunglasses have seven to improve durability. This is one of the best sunglasses for men who may be concerned about dropping or sitting on their pair.
They will provide you with 100% protection from the sun, keeping you more comfortable on a sunny day, protecting the user from potential eye problems that come from exposure. Though this brand is well-made, it does not feature its branding or logo at all, which may be best for men who want to keep their look simpler.
9. American Optical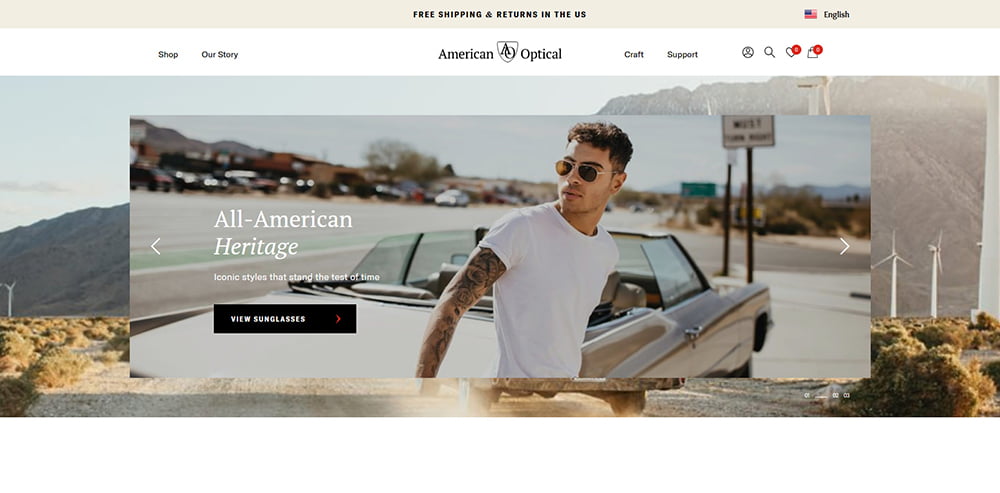 Visit website: aoeyewear.com
American Optical was founded in 1833, manufacturing all of their designs out of Massachusetts. They are functional and high quality. The hinges open and close effortlessly, adding practicality to the stylish, classic style. JFK has been pictured in a pair of these iconic sunglasses, but the brand has consistently maintained affordability for the everyday consumer.
The American Optical Original Pilot has the logo in the top left corner of the sunglasses, setting themselves apart from other brands that place their logo at the top right. The gold frames pop for a bold look, though the glass lenses are slightly heavier than polymer. Still, they provide impressive clarity for most prescriptions.
10. Mykita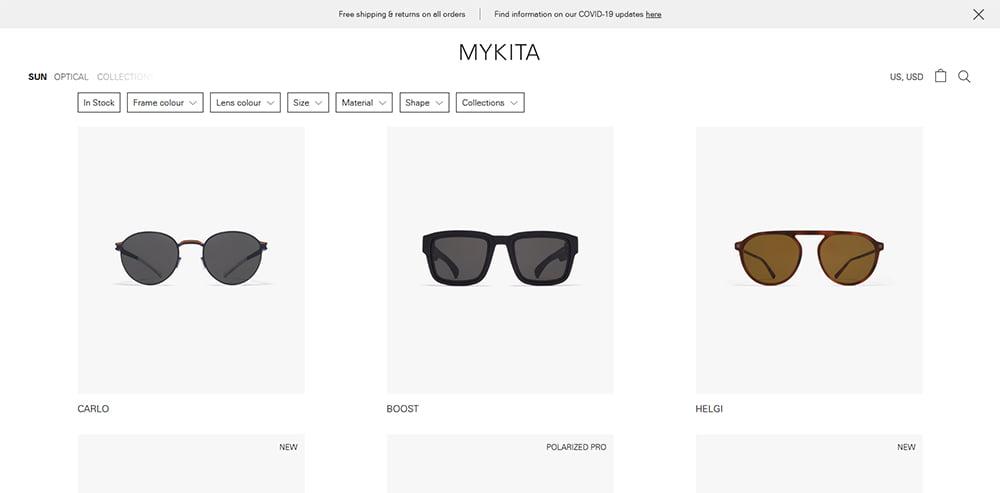 Visit website: mykita.com
Mykita provides handcrafted sunglasses that are made in Germany, offering simple, modern and elegant designs that pair beautifully with a good suit or a tailored outfit. They come in a variety of materials, including metal, acetate, mylon, and clip in shades. With different shapes and multiple colors, you can get anything that expresses your individuality.
They are known for lightweight and durable spring hinges, pairing well with the surgical stainless steel (which is surprisingly flexible). They have a good fit for the user, keeping the glasses stable through exercise or other physical activities.
11. Moscot
Visit website: moscot.com
Moscot sunglasses were founded in New York City in 1915, and they are still stylish over 100 years later. The sunglasses are made in Moscot's factory in China, and the many options have attracted the deep pockets of celebrities like James Franco and Johnny Depp. However, their affordability makes them the best sunglasses for men who want to show the same quality for a lower price tag.
The hinges are fastened through the temples and front of the frames, making the classic and bold designs even sturdier for regular wear.
12. Warby Parker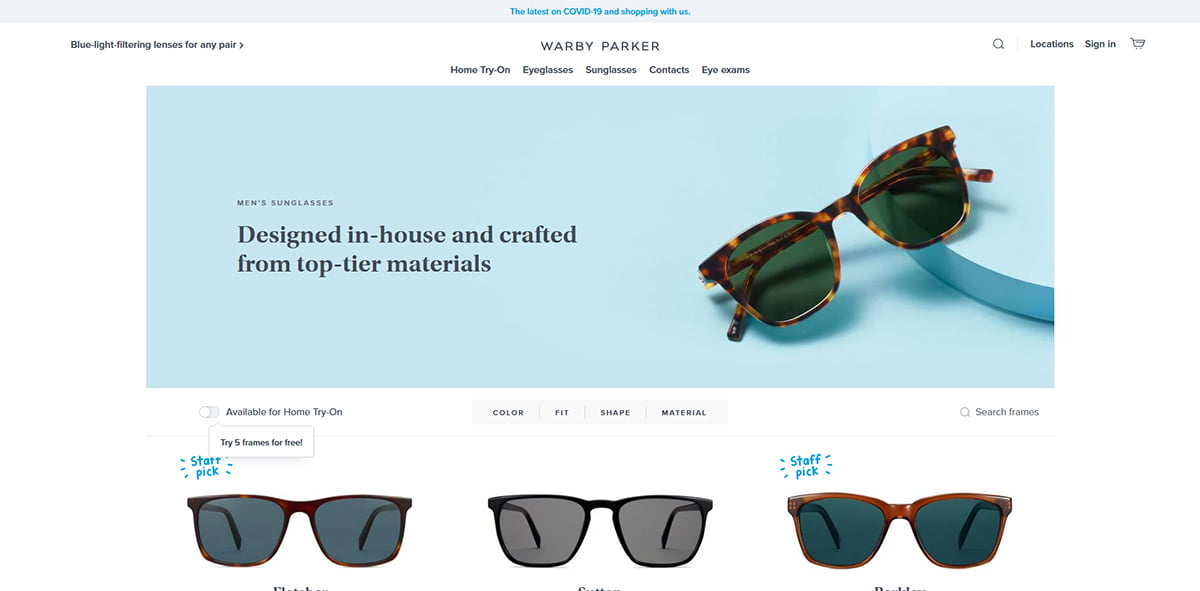 Visit website: warbyparker.com
Warby Parker is a versatile brand, offering the chance to try out five different pairs of prescription sunglasses at a time before making a purchase. With high-quality metal and non-metal frames, users can choose between multiple shapes that are either standard or polarized. The polymer lenses are lightweight and affordable, defending against 100% of UV rays.
Along with the best sunglasses for men who need prescription lenses, this company also offers regular eyewear and even contact lenses.
13. Messy Weekend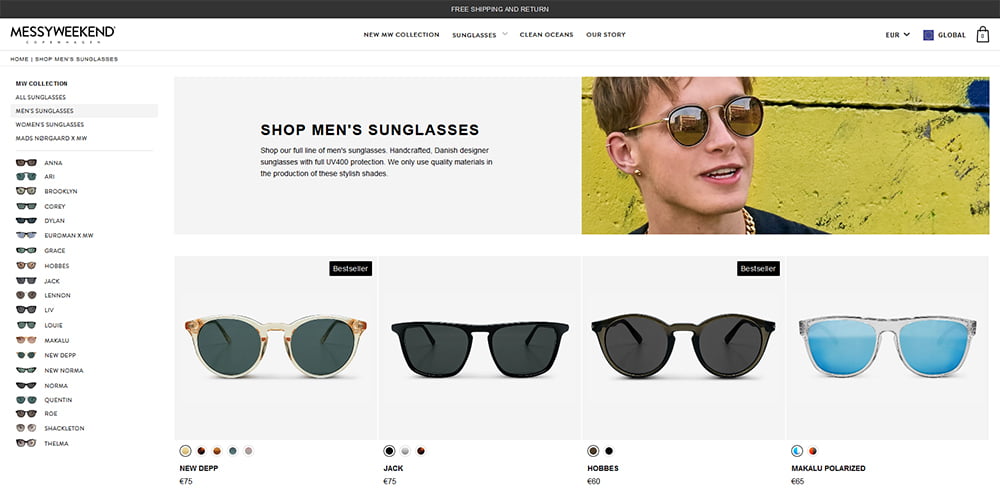 Visit website: messyweekend.com
Messy Weekend is based in Copenhagen where they make sunglasses that are as stylish as they are durable. Considering the quality, they are also quite affordable and fit well on different face sizes and shapes. If you like dressing casually, grab a pair of Makalu Polarized, Messy Weekend sunglasses – they are lightweight and comfortable but still strong enough to use daily.
In addition to making good quality glasses, the company is also committed to keeping the world green. With the purchase of any pair, Messy Weekend is dedicated to removing up to 2 kg of plastic waste from the Pacific Ocean.
14. Garrett Leight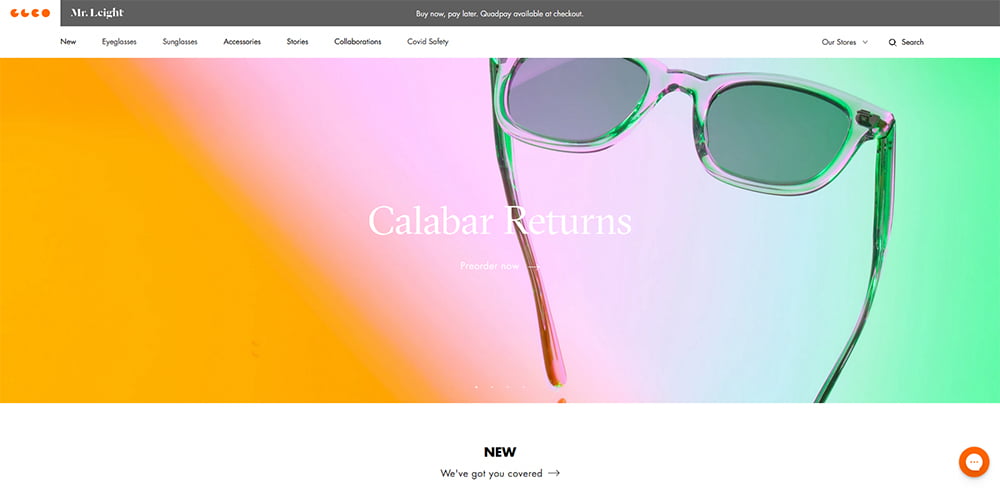 Visit website: garrettleight.com
Garrett Leight sunglasses are of exceptional quality and smooth. They have a modernized vintage style, fitting even a small face or a strong prescription. They have polarized sunglasses that produce a beautiful polarized shade on the inside. They also have solid hinges, allowing the glasses to open and close easily. The frames are handmade using CR39 lenses.
One of the more popular frames offered by this brand is the Garrett Leight Wilson. These have a classic shape and are bold and sophisticated, conveying a strong and masculine disposition. They also have round frames, tortoise temples, and Windsor rims, making them the best sunglasses for men with a fresh and eclectic style.
15. Tom Ford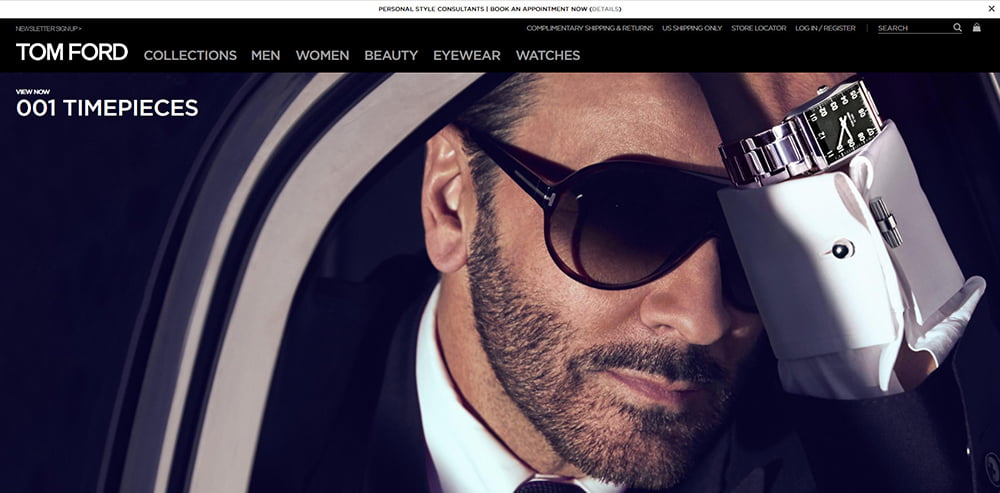 Visit website: tomford.com
Tom Ford sunglasses are made in Italy, featuring a classic T at the temples that form perfectly when the glasses open. The case box has a nice velvet texture that will protect your glasses and keep the lenses from getting scratched.
One of the most stylish pairs from Tom Ford is the Demitry Vintage Aviator Sunglasses. They have a modernized retro feel to them with a black gradient lens and polished metal. The look can suit a variety of face shapes, making them the best sunglasses for men with a square, heart, or oval face. It has a logo on behind the ear to show the brand name, and the metal hinges are not spring-loaded, making them feel more high-quality than similar designs.
Which brand of glasses is best?
There are several popular sunglasses brands for guys, and the most common ones are Person, Ray-Ban, and Randolph Engineering.
Persol was founded in 1917 with a long heritage. They become the sunglasses of iconic actors such as Steve McQueen, making them the best sunglasses for men with a more sophisticated aura about them. They are handmade and have flexible hinges that allow them to wrap around your face more comfortably. Ray-Ban has stood the test of time, having been in existence since 1937. They are also classic and will undoubtedly look just as chic and fashionable a few years down the line.
Randolph Engineering has been making top-rated sunglasses since 1978, and they even made aviator sunglasses for pilots in the military, which put them on the map. They are made by hand with high quality and undergo a rigorous inspection to make sure they have high-quality standards.
Still, there are many other popular sunglasses for guys that want to express their style, like Persol, Maui Jim, Oakley, and American Optical.
What are the best sunglasses for the money?
The first brand I would recommend is Randolph Sunglasses which average $220. Although they are expensive, their quality is unmatched for a long-lasting frame that is sure to garner compliments from others.
Ray-Ban sunglasses will also give you great value for money spent, starting at $150 and going up from there. For the price range, you can't do better than Ray-Ban. Warby Parker is top-rated sunglasses that will give you value for your money, and the fact that consumers can try on a pair for themselves before they purchase is a distinct advantage. At less than $150 for a prescription pair of sunglasses, consumers can even apply their vision insurance to their purchase.
How can you buy better sunglasses?
When buying new sunglasses, start by looking at the tint of your lens – this will affect what you see and how you see it. Grey lenses bring down brightness without affecting the color of vision, while brown lenses improve depth perception and help you when doing outdoor activities. However, the latter also changes the way you see certain colors while wearing them.
Make sure your sunglasses have 100% UV light protection for full protection. Otherwise, the pupils dilate and exposure the eye to more sun, putting you at risk for the development of cataracts and other retinal diseases.
Look at polarization, which is a special filter that is built that reduces glare coming from flat surfaces. Polarized sunglasses are ideal for people who drive a lot or engage in sporting activities.
Apart from the features that protect you, you should also seek out a pair that will flatter the shape of your face. For a bolder look, find a pair that contrasts your face shape; if you have a round face, select square lenses. In the same respect, if you have a square face and you would like to soft it, choose round frames.
What sunglasses are in style in 2022?
Tom Ford aviators are by far one of the most popular sunglasses brands for guys. Through most aviators are similar, these have a black frame and little details. The sunglasses look sharp whether you are dressed up or down.
Persol 714 Steve McQueen is also in style. They are a popular style with an effortlessly cool frame that is proven to be timeless. It's something that you can wear many times. You can also dress it up or down. They can flood all the way, making it very easy to carry around.
Gucci Square Pilot offers a very unique shape with discreet logos on the temple and has a greenish tint. Another stylish pair is the Versace VE2163. It has a striking black and bold color scheme. The bold style will help you make a statement and people will know that you have discerning taste.
15 Sunglasses Brands for the Most Stylish Men
This list has many popular sunglasses brands for guys, which share wonderful characteristics. They provide superior UV protection to keep your eyes protected. They also carry fashionable pairs that will add flair to your outfit with attractive frames, a variety of colors, and different shape options. The best sunglasses for men can come from around the world, using natural design elements in the United States, Germany, China, Italy, and other countries. All of these brands focus on the care in which their frames are made, and some even make their designs by hand.
Most of the sunglasses are branded as a way to showcase the company as the user wears them. With so many imposters on the market, you want to be sure that you spend your money on the top-rated sunglasses from the real makers.