Obviously, we are all impressed with the technological advancement of mobile phones, but what about sports watches? Little did we know that technology is available on watches, enabling smartwatches to emerge. While some consider sports watches the pinnacle of smart technology, others view them as a simple timepiece. Yet, the technological advancements and the health features are unparalleled. They can simplify your life by connecting to your smartphone, GPS, and social media apps.
15 Watches that are Perfect for Guys who Live an Active Lifestyle
They also have fitness features, including a heart rate monitor to track your heart rate, calories burned, and distance traveled. Most smartwatches are compatible with iPhones and Android phones right out of the box. From comfort-based fitness to high-intensity training to a hybrid watch, a sports watch will help you monitor and improve your physical performance. Choosing the right sports watch can be tricky since so many are on the market. So, we will discuss the features, the best sports watch under 1000 dollars, what is a good sports watch for you, and the best sport watches for men.
1. Fitbit Charge 5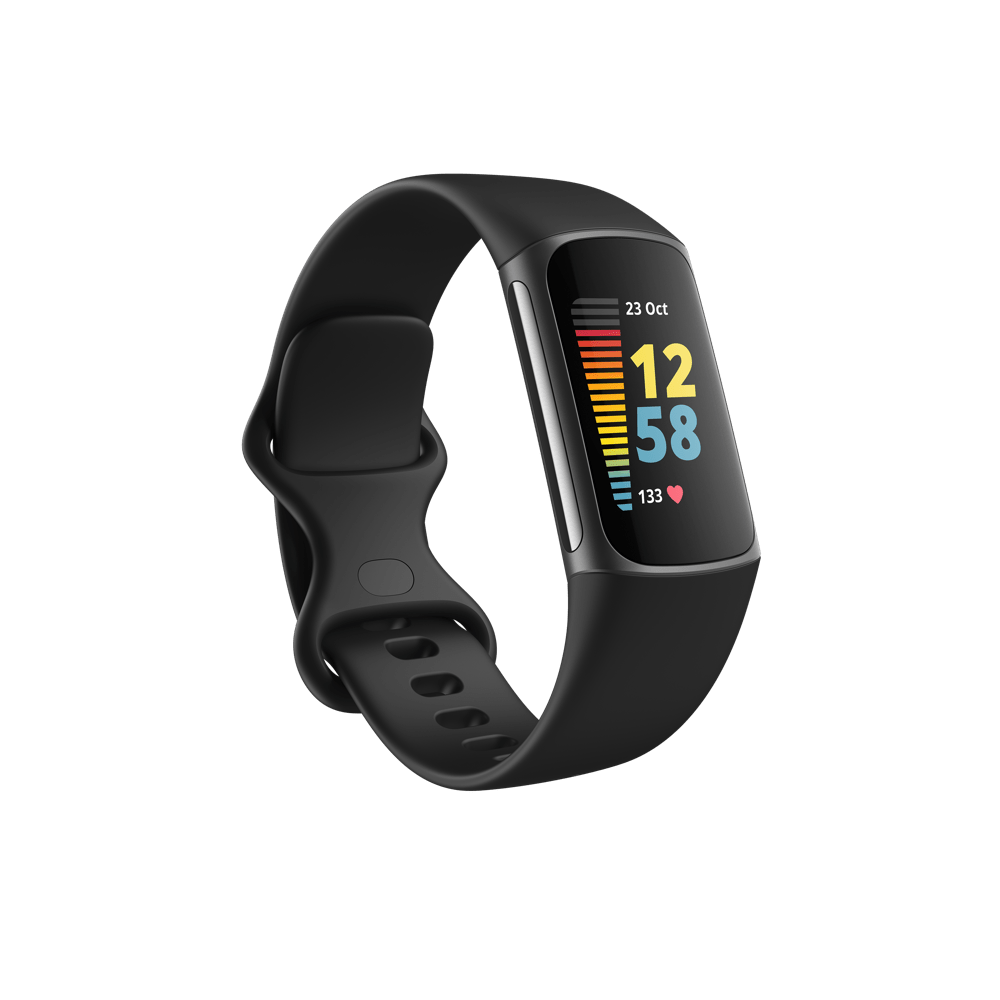 If you have been waiting for the fifth-generation Fitbit Charge, wait no longer. It is here, and it comes with all the innovations you would expect from a fitness tracker. The most advanced fitness and wellness app feature a heart monitoring wristband, stress management using the EDA Scan app, and more. This watch will become your partner in health and fitness. You can track your steps, monitor your sleep patterns, measure your exercise intensity, and you will have access to a heart rate monitor and an altimeter. This is a good sports watch for hiking and jogging. With a built-in GPS, you can track pace and distance in real-time while hiking or running. Then get a fitness intensity map with your Fitbit app to keep track of your heart rate and pace during your route. This is a great sports watch under 1000 dollars, and it is one of the best sport watches for men.
See more: fitbit.com
2. Polar Ignite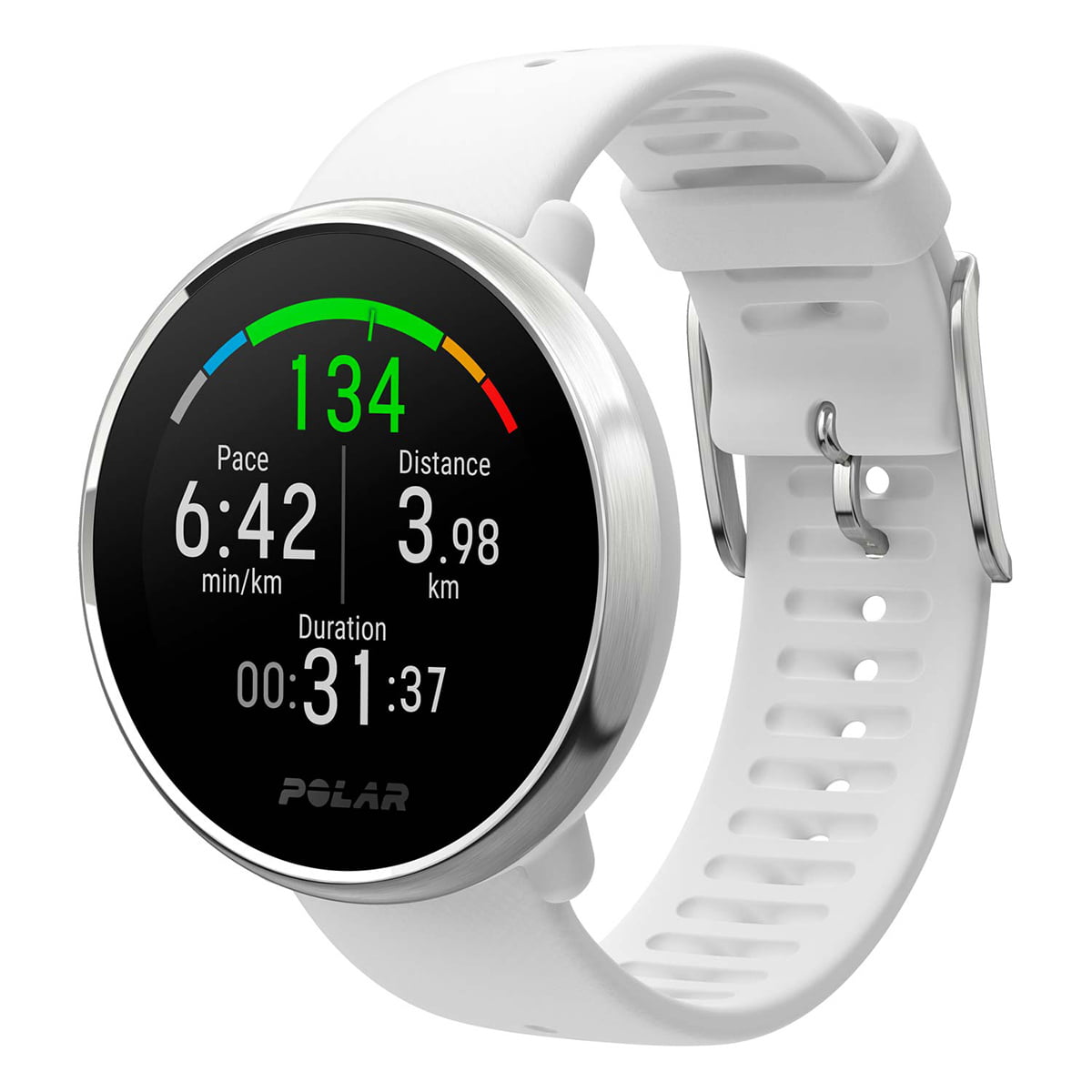 Facing a tough workout? Suffer no more with this high-tech heart rate sensor and GPS tracker watch! With a powerful GPS, you will never run out of battery life with its 24/7 optimized use. Polar Ignite provides detailed insight into recovery and readiness. So, if you are looking for
a companion that helps you push yourself beyond your limits, this watch can be an excellent resource since it is waterproof. With advanced wrist-based heart rate monitoring and GPS, Polar Ignite can help you make more informed decisions and give you motivation and guidance when exercising and going for daily walks. This is a good watch for people who lead busy lives or have trouble keeping track of their fitness activity.
See more: polar.com
3. Suunto 9 Peak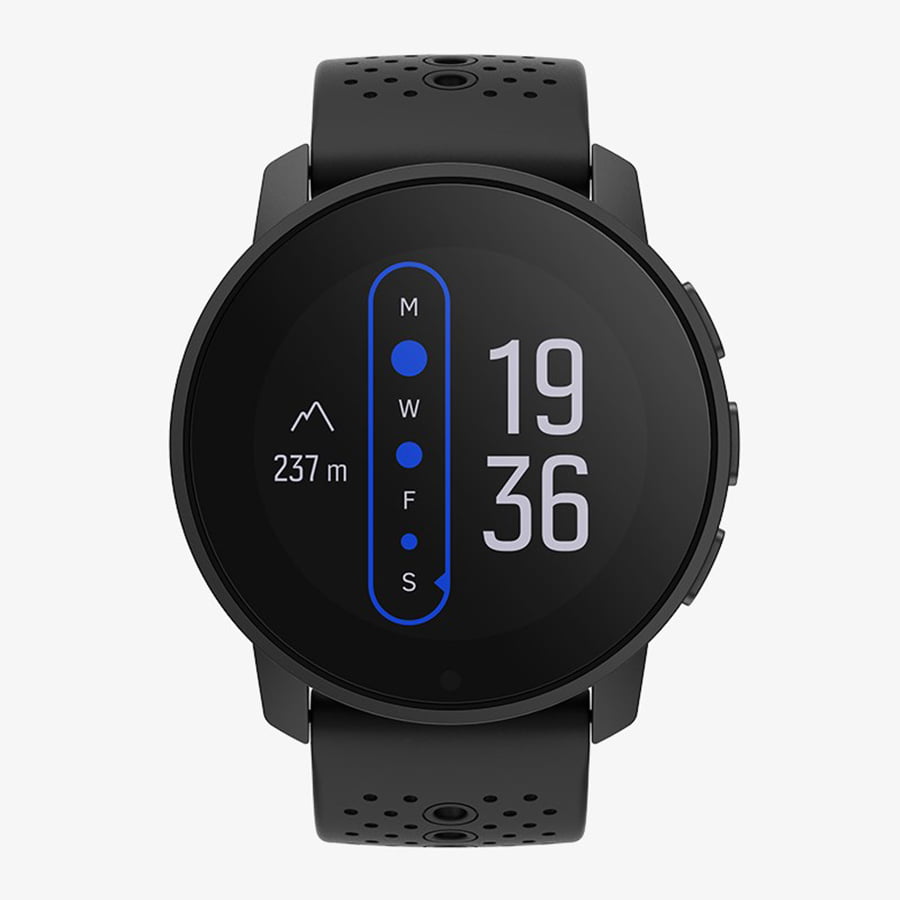 With all the adventures that sport offers, the Suunto 9 will keep you in touch with the highs and lows. With the 9 Peak, Suunto has designed the smallest, thinnest, and toughest watch ever. The Suunto 9 Peak All Black features stainless steel construction with a color-matched premium coating that gives the watch a look and a feel beyond comparison. Suunto 9 Peak is an outdoor sports and adventure GPS watch. The device uses over-the-air updates to enable you to connect with the world, is water-resistant, has high-performance sensors, and has a high-sensitivity receiver. The receiver sends data, tracks your progress, and acts as a powerful workout companion for extreme pursuits. It is a good sports watch for most demanding outdoor sports, like trail running and hiking.
See more: suunto.com
4. Fossil Hybrid Smartwatch HR Collider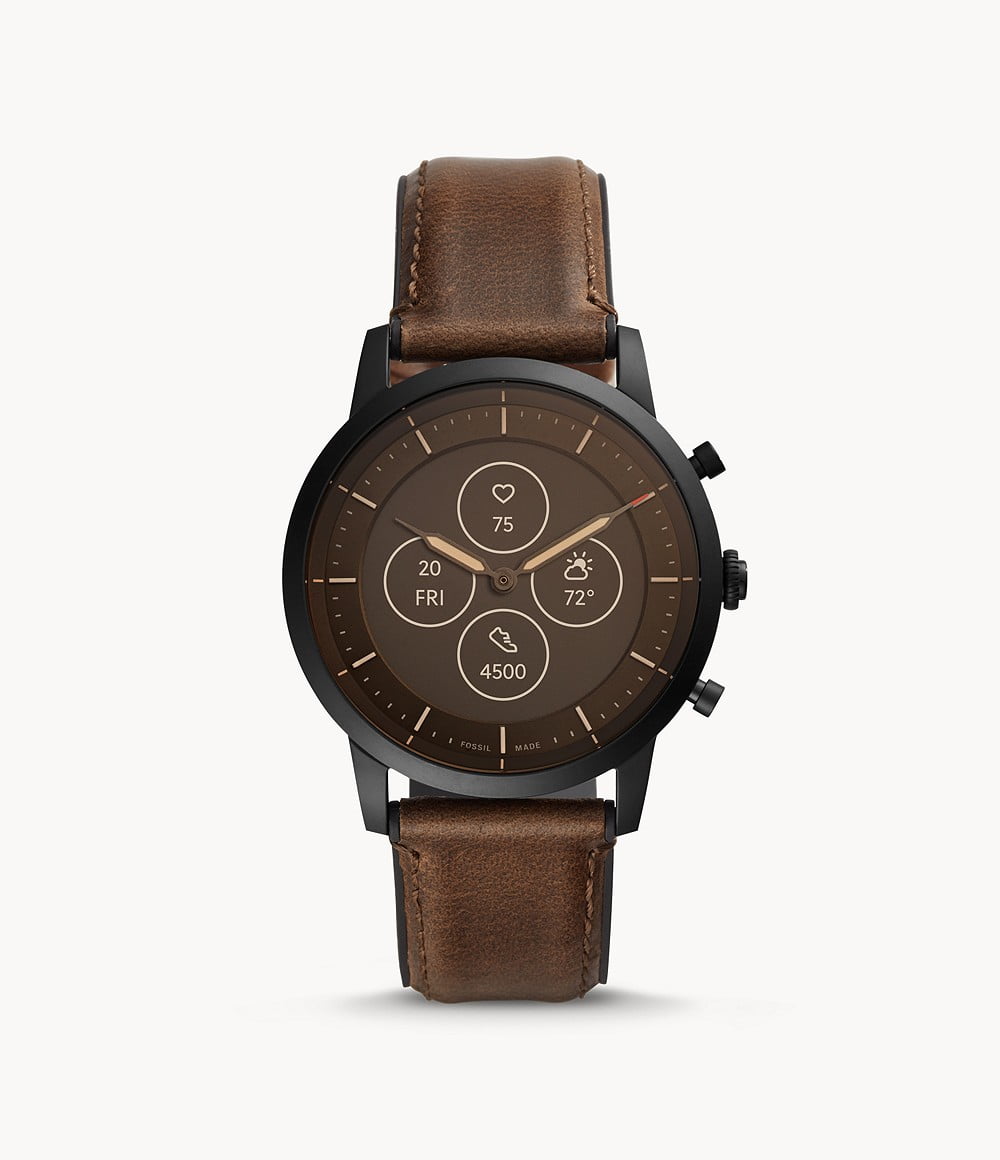 If you want a smartwatch with less of the tech, then the Fossil Hybrid HR Collider is for you. The watch combines a classic fashion watch and a high-tech smartwatch, packaged in a traditional design. Vintage meets tech with these watches. The hybrid also allows you to control your music, take a picture, and track your activities. The Fossil smartwatch app lets you track your steps, calories burned, and distance traveled so you can stay on track. While they have a display similar to an e-reader, these watches have all of the charms of a traditional watch while giving you up-to-date technology. In some cases, hybrid HR watches can last up to two weeks before needing to be recharged.
See more: fossil.com
5. Garmin Fenix 6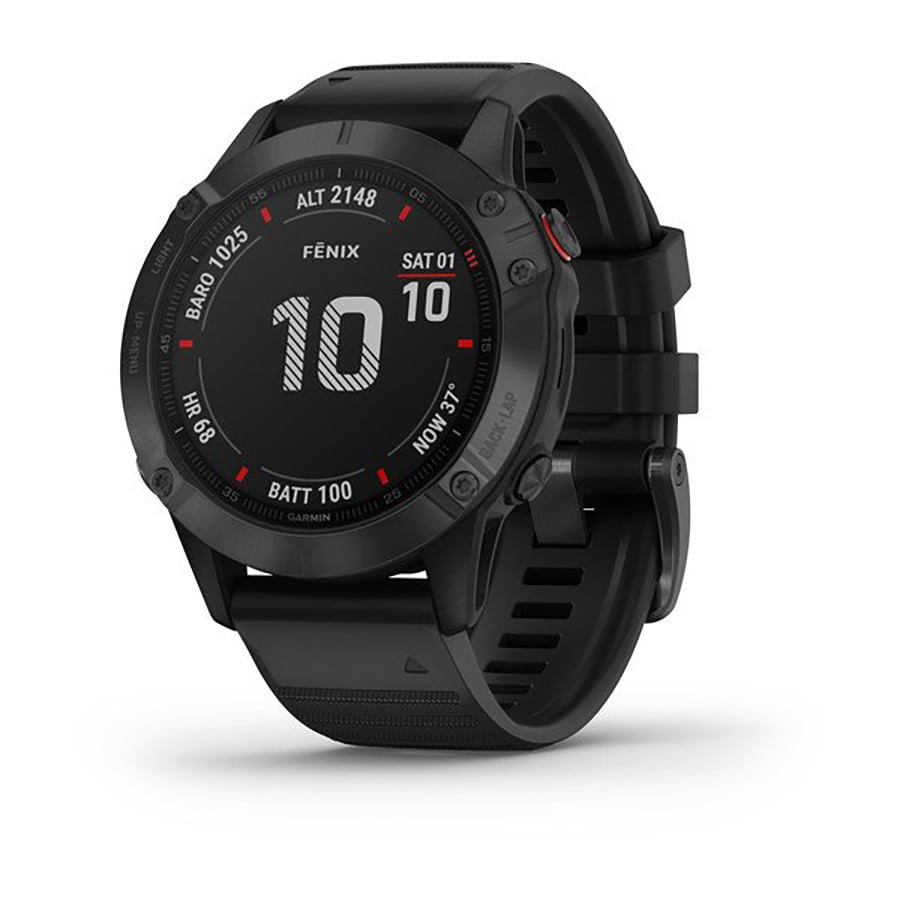 With the rugged Fenix multisport GPS smartwatch, you can conquer any workout challenge with mapping, music, intelligent pace planning, and more. This GPS brings music, pulse oxi, and dynamics pace pro to help you run smarter over various types of terrain. No matter if you are in the mountains or on flat ground, or if you just want to know your body's biometrics, this watch is for you. These features help you run smarter over various types of terrain. This gym-friendly smartwatch is the most comprehensive GPS watch, with tons of features from heart rate zones and VO2 Max to vibration alerts. Once paired with an account, you can download maps and music and hear their pace based on intervals.
See more: garmin.com
6. Luminox Bear Grylls Survival SEA Series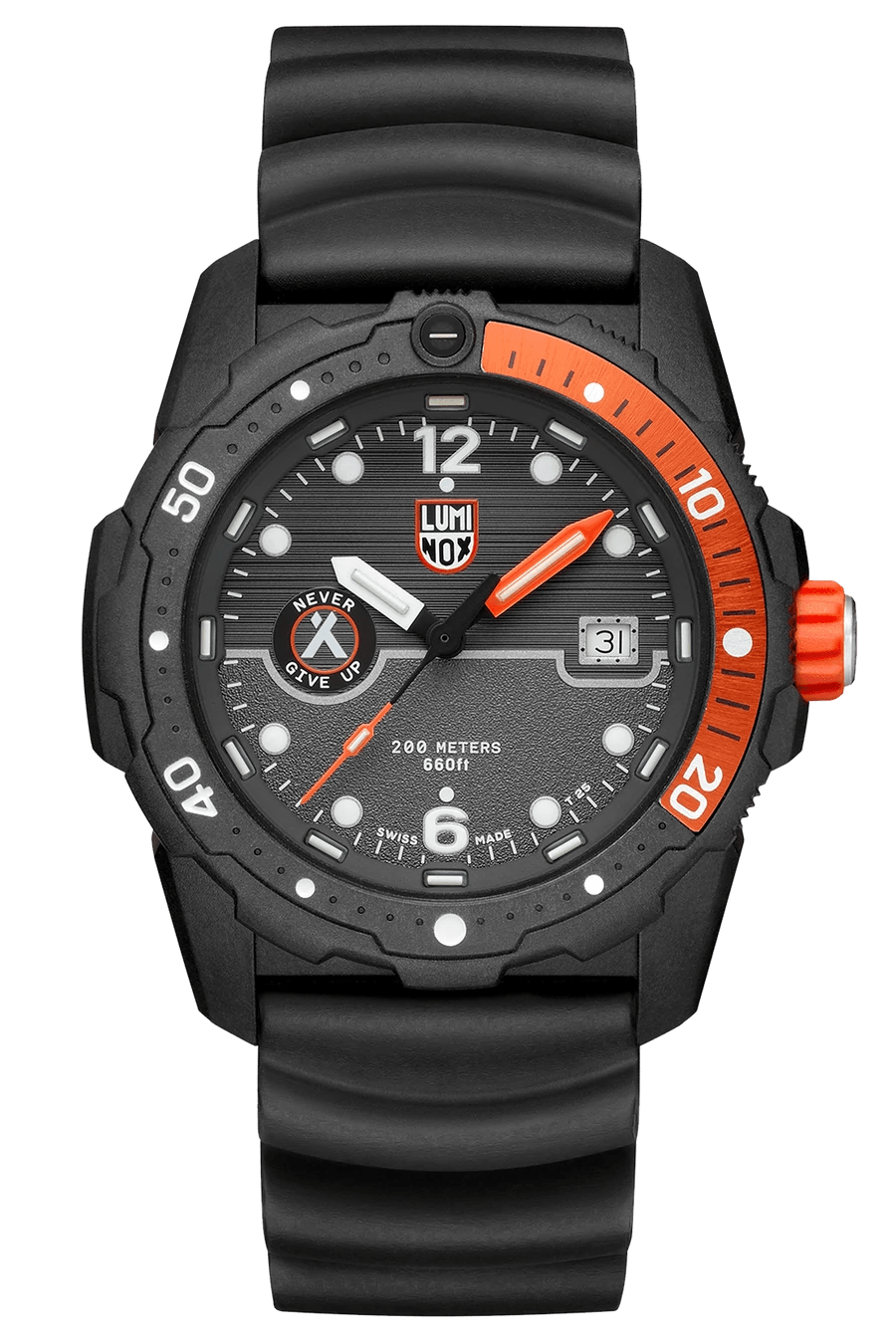 Those who live life on the edge should own this Bear Grylls Survival SEA. It has a sleek design, bright, easy-to-read screen, and is easy to navigate. The Bear Grylls Survival SEA is known for its solid, classic aesthetics, reliability, and durable design. Luminox is known for its traditional aesthetics and respective reliability. For 25 years, they have been the choice of professionals, including the US Coast Guard, Navy SEALs, law enforcement divers, and SCUBA legend Stan Waterman. The smartwatch can withstand underwater depths up to 200 meters and has an estimated life span of 25 years. The watch features GPS, Bluetooth, altimeter, and a sundial that can withstand any weather, making it ideal for any adventurer. These great sports watch under 1000 dollars.
See more: luminox.com
7. G-Shock G9300-1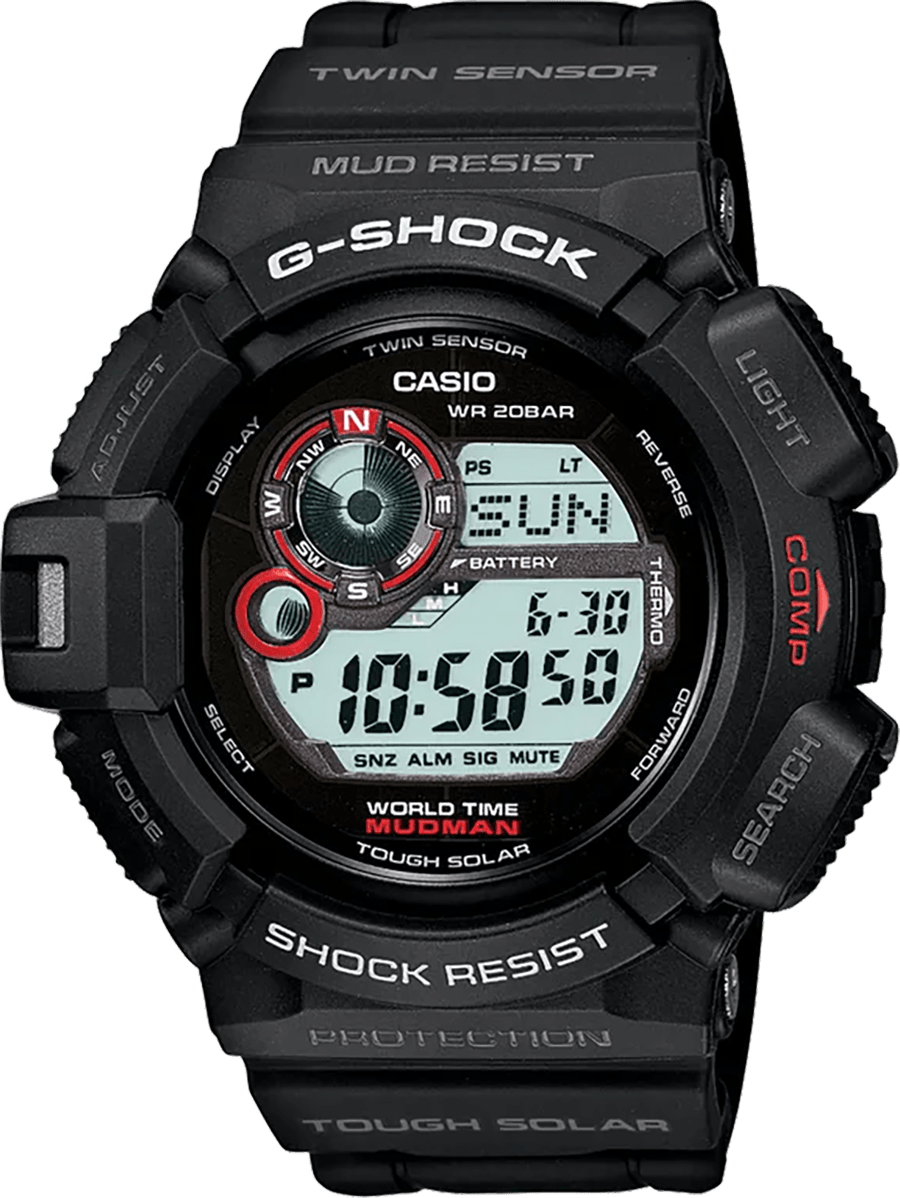 Want to feel the excitement of everything happening in front of your eyes while still keeping the time? Want to go on a huge hike or go skydiving without worrying about the time? Then look no further than the newly improved G-Shock G9300-1. This smartwatch perfectly combines value and function. It is perfect for those who love a good timepiece that can take more than a few bumps and tumbles. From the thick and durable band to the premium face that does not crack, the G-Shock is built to last. The smartwatch includes a thermometer, compass, and direction sensor. It's Thermo sensors and compass can withstand temperatures of up to 200 degrees Celsius (392 degrees Fahrenheit), and its water resistance means it can withstand splashes.
See more: gshock.com
8. Garmin Forerunner 245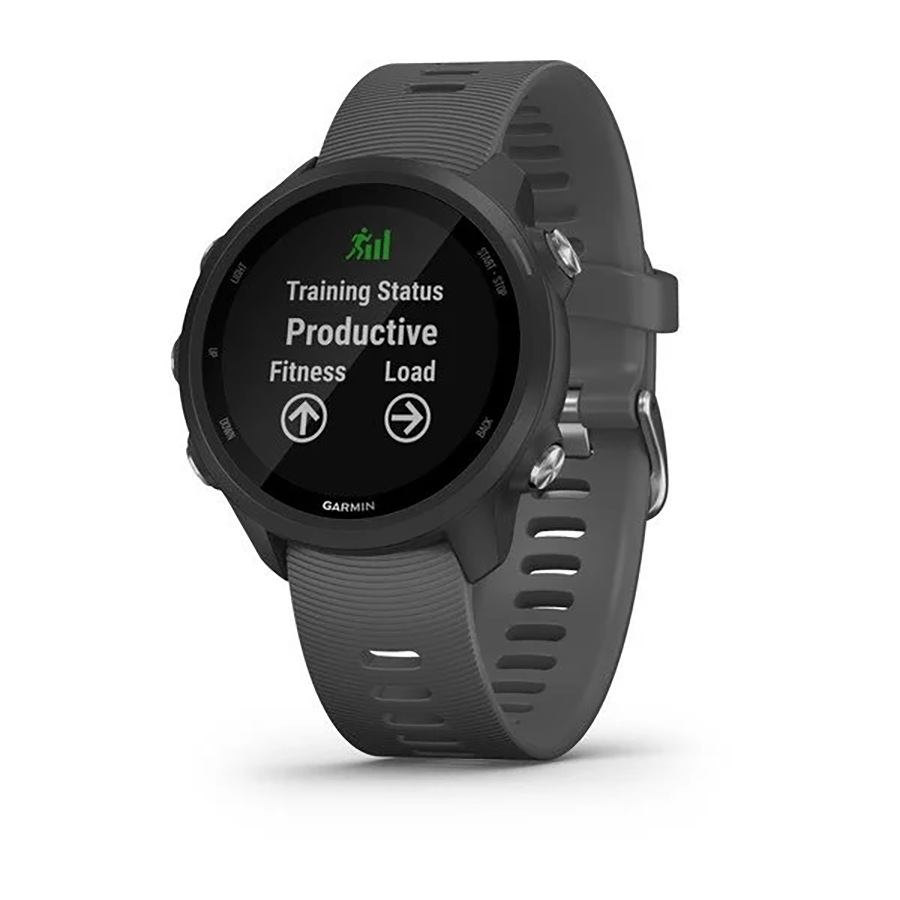 If you are busy with a hectic schedule and need a device that is easy to use and has all the features they want, The Forerunner® 245 Running Smartwatch is ideal for you. It is more than just a watch; it enables runners to monitor their race times and training status in real-time and plan a course-specific training plan. Each time you lace up, you get displayed the variables in your heart rate to ensure you are the best at making time for your body and mind. This is a smartwatch designed to help you reach your fitness and running goals. It provides feedback to help you train smarter so you can get the most out of your time. Features include training advice, My Garmin Coach, and GPS navigation.
See more: garmin.com
9. Montblanc Summit Lite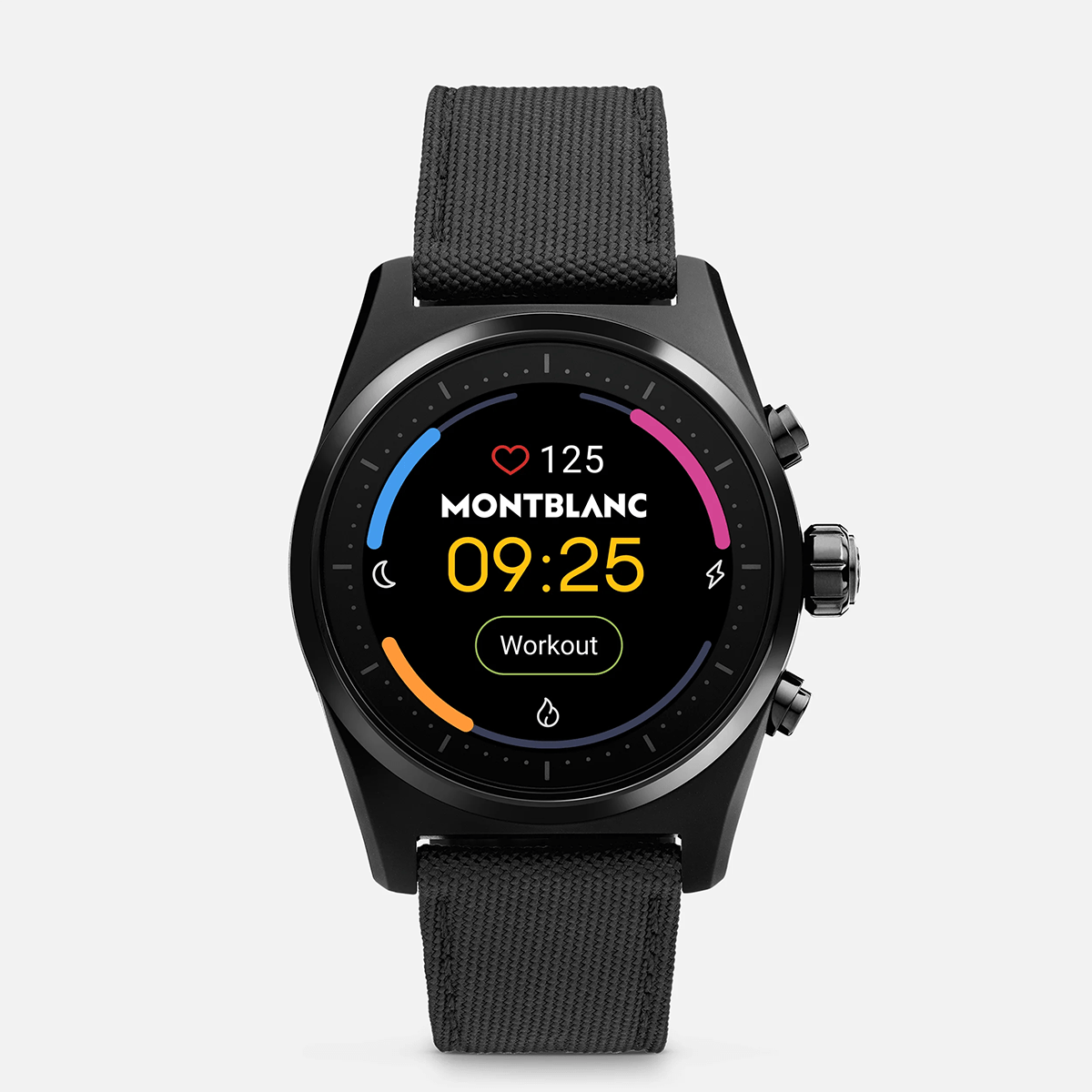 For those who want to maximize their value and performance and promote an active lifestyle, they can do both with the Montblanc Summit Lite smartwatch. Montblanc's pioneering innovation has taken it to the desired place in the industry, and with this new range, it has no reason to stop. The Montblanc Summit Lite smartwatch is stylish and ultra-slim. The Summit Lite stands out from the classical Summit smartwatch range with its proprietary Montblanc activity apps and lightweight materials. As a result, the Montblanc Summit Lite watch offers clients new possibilities for focusing on their health. The Montblanc Summit Lite includes a range of activity apps with associated lifestyle and well-being programs and a lightweight design that is perfect for active lifestyles. The watch lets you track your activity levels via its color-coded range.
See more: montblanc.com
10. Polar Grit X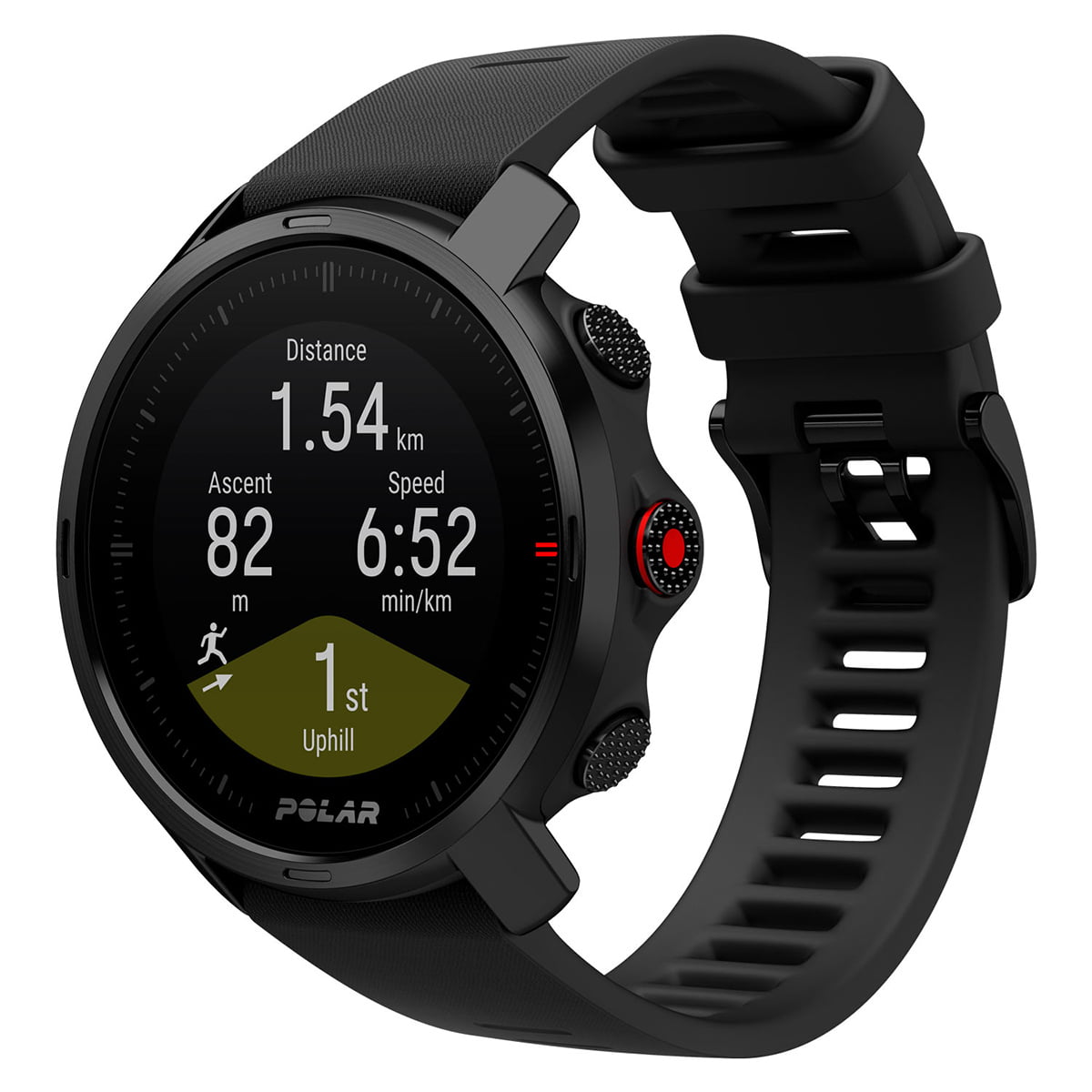 To reach further than anyone else, you need tools that will last. Designed to get you through even the most challenging, most epic sessions without compromising on your style, Polar Grit X is ideal for your everyday use and it is the best sport watches for men. Runners will love this smartwatch, whether training for a marathon or just jogging for fun. The Polar Grit X comes with large numbers, instant lap time readings, and other features to make your workout more efficient. This outdoor multisport watch features a durable, rugged, yet lightweight design, top training features, and Polar Flow, the ultimate training platform. With Polar Grit X, you will have a built-in GPS, compass, and altimeter in training mode, as well as Polar Smart Coaching, features that will help you succeed in your adventures.
See more: polar.com
11. Fitbit Sense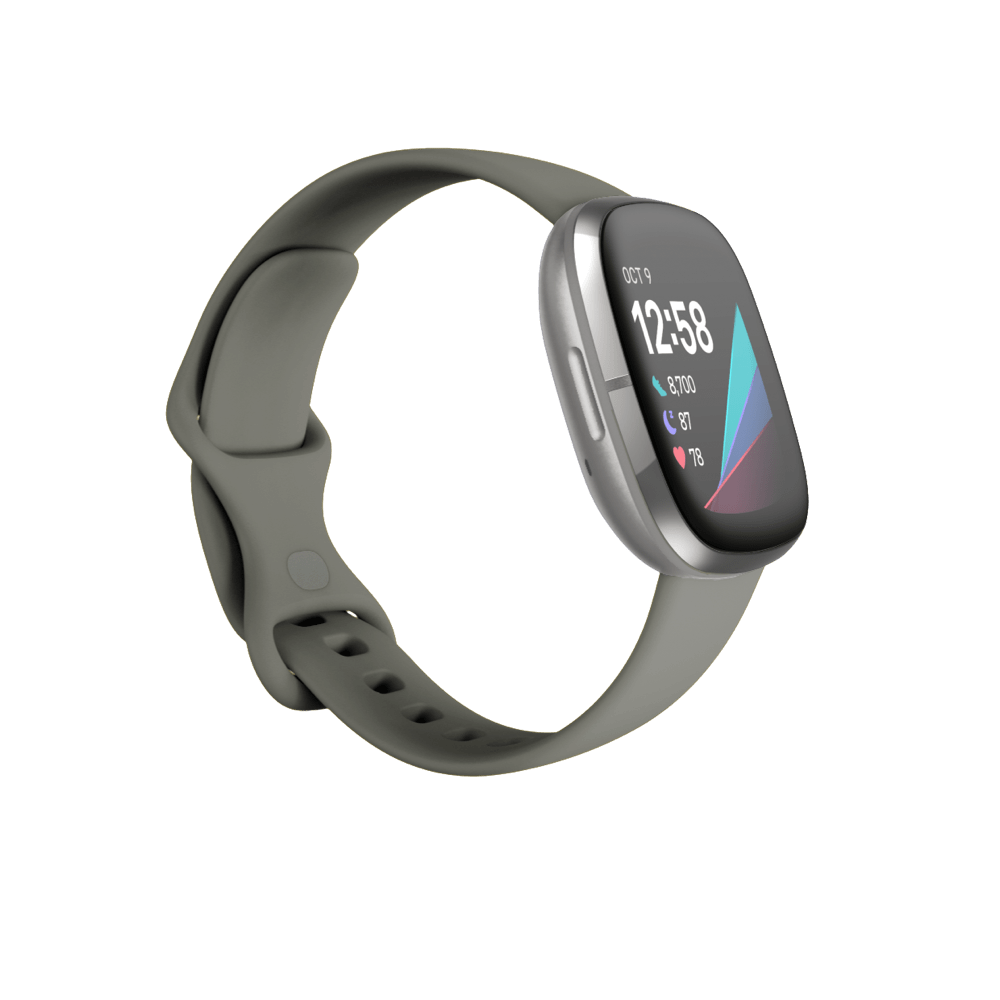 If you are a fitness enthusiast, athlete, professional, or newbie, you will love the Fitbit Sense Smartwatch. It is the most sophisticated health tracking device available. With innovative sensors, the smartwatch can monitor your sleep, health metrics, activity, help you manage stress, and help you make better choices for your well-being. The device offers a sleek design and the freedom of activity tracking without a wrist strap, making it a great way to get back in shape. The Fitbit Sense empowers you to achieve your health goals. As the premier personal health tracker, the Fitbit Sense listens, tracks, and motivates you towards your goals towards an overall improvement in your health. The Fitbit Sense continuously learns from your body, adapting to different scenarios at different times.
See more: fitbit.com
12. Garmin Instinct Solar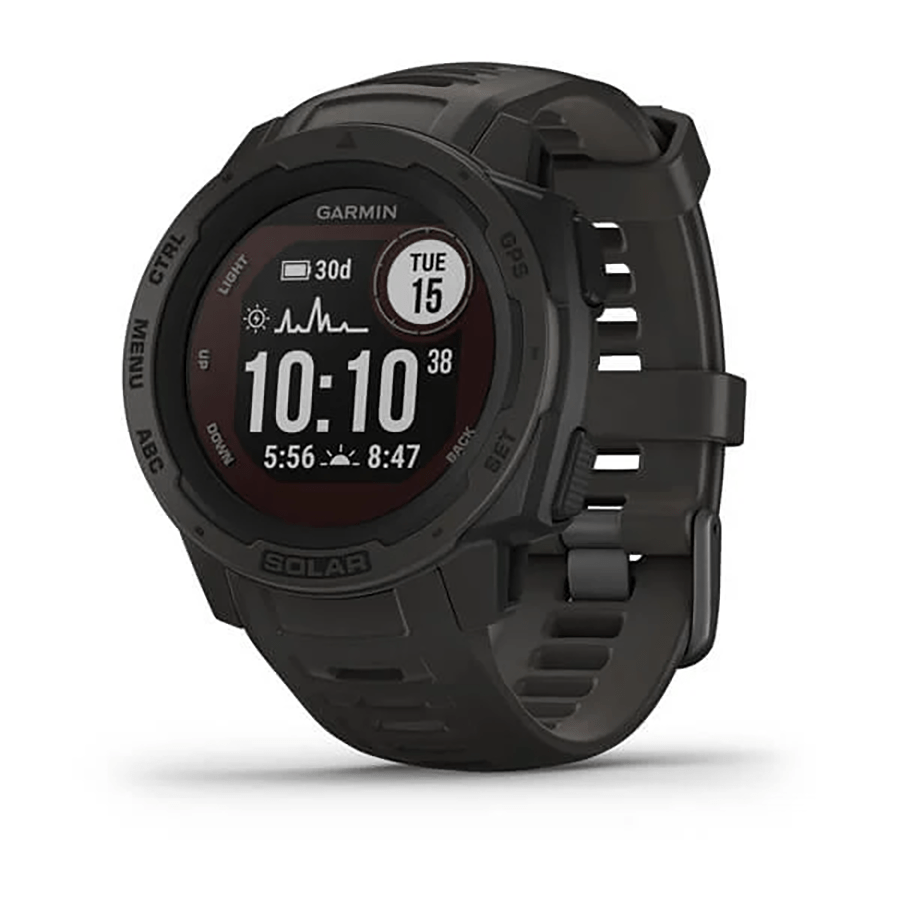 The Instinct is a smartwatch designed with adventurers in mind to tackle the elements. From training to tracking your location, it is a watch ready to go with you on every adventure. They built the Instinct Solar to be tough and break conventions simultaneously. It has a military-grade toughness that makes rough play easy. The Instinct Solar features solar-powered charging, built-in GPS and GLONASS, and Galileo, which can track distances and athletic progress. GPS-enabled and solar-powered, this smartwatch includes a weather app as well. Using solar power extends the battery's life to new heights. An elegant and lightweight design makes for the perfect adventure companion for your day-to-day life. The solar aspect of this makes it one of the best sport watches for men.
See more: garmin.com
13. Skagen Falster 3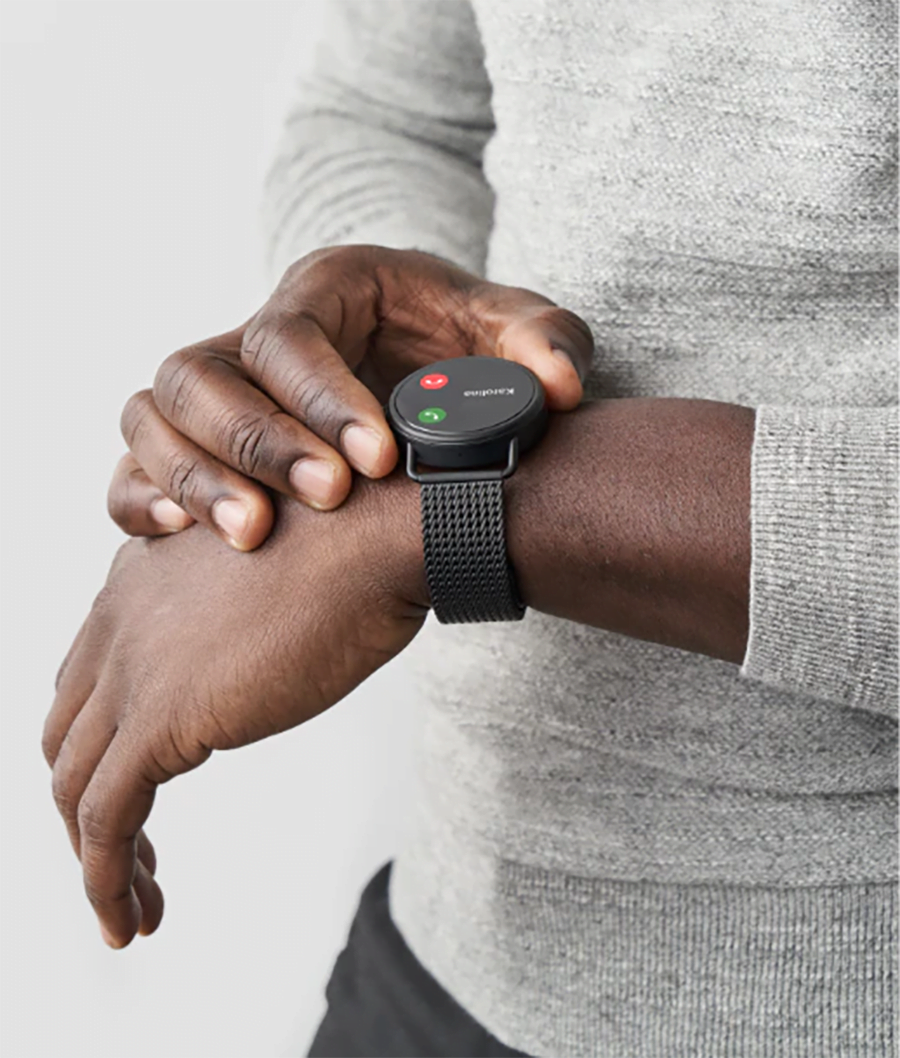 Want to feel in tune with your body, maintain your health, and complete that stylish look? Look for a remarkable timepiece like the Skagen Falster 3. It has a sleek, elegant, and compelling design. This watch is both stylish and functional, with a low profile and lightweight stainless steel design. Skagen Falster 3 is a modern smartwatch that integrates health metrics and fitness apps to help you better monitor your health and fitness, hands-free Google Pay, and hands-free phone answering via a built-in speaker. The smartwatch looks sleek and has a heart rate sensor, a bracelet-shaped device, and a strap at the bottom. Bracelet feels comfortable and looks brilliant, with a side button for activating and stopping the clock.
See more: skagen.com
14. Suunto-Core-All-Black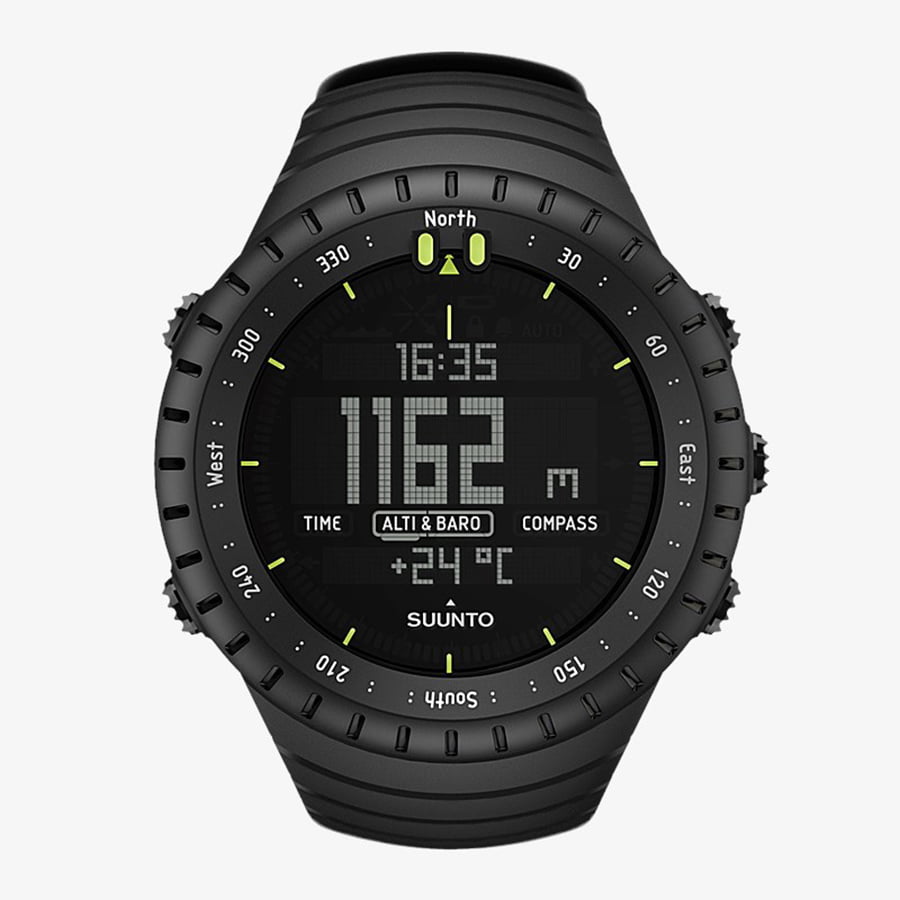 With a pure design for all-round use and water resistance up to 165 ft, (50 m), this watch is the perfect tactical device for hikers, travelers, and mountaineers. Besides its key outdoor functions, the Core Classic is built tough and features a comfortable strap made of elastomer. This watch provides reliable weather information, a digital compass, a barometer, and an altimeter, and it displays current weather information in real-time. You can also use the watch as a GPS or heart monitor. A compass makes navigation easy and for everyday use, making it one of the best sport watches for men.
See more: suunto.com
15. Withings Steel HR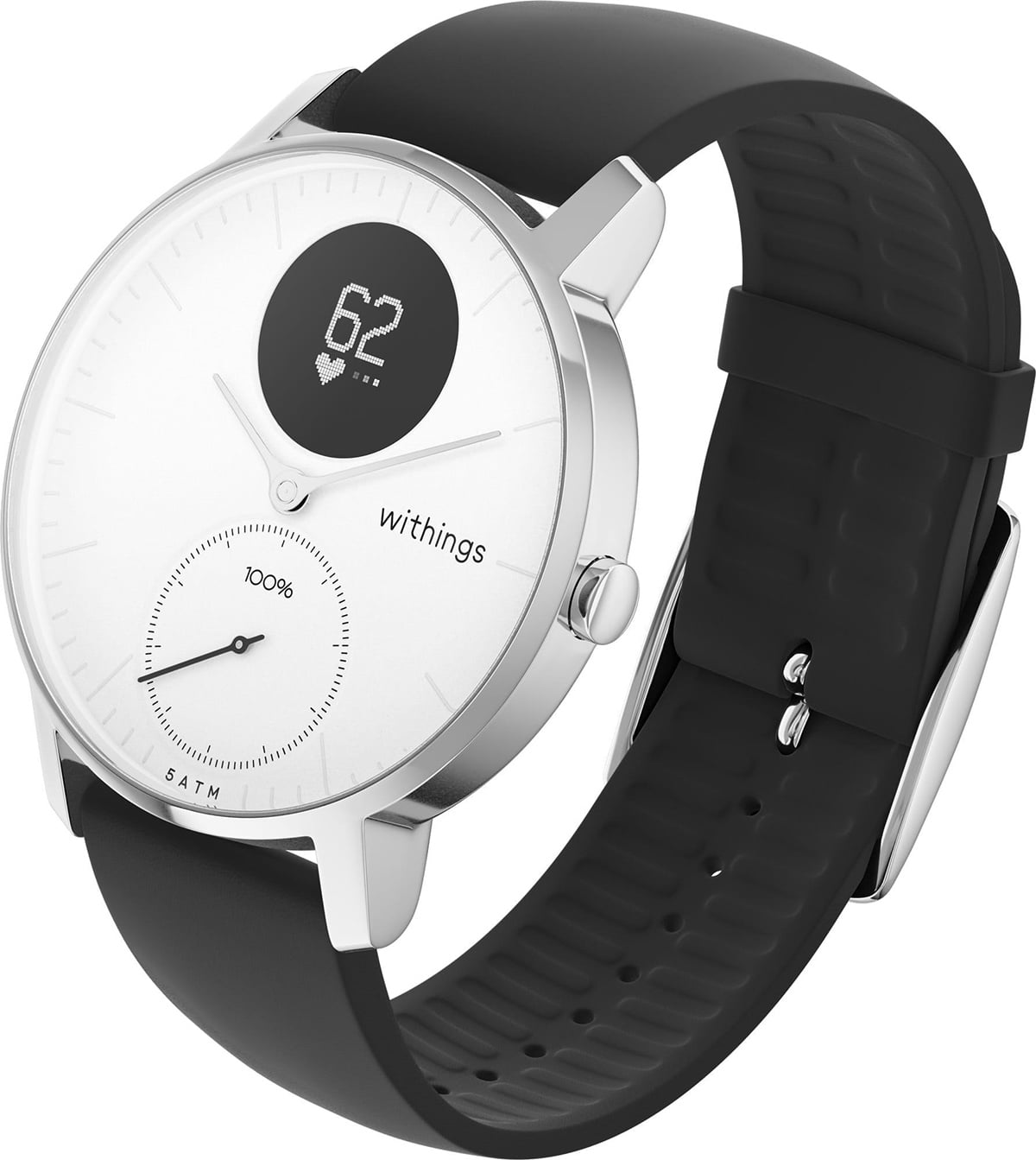 You would be remiss if you did not add this watch to the list of best sport watches for men. Withings Steel HR is built for working out, with a slim design and customizable features. The watch has 18K gold and stainless steel construction, which is 1.8 times more durable than a typical watch. It is waterproof to 5 ATMs. The Withings Steel HR includes a heart rate monitor and sleeps tracking features, with incoming notifications on your phone. It is a multi-sensor activity tracker with a 25-day battery that connects directly to your smartphone. This smartwatch measures pulse rate and tracks your heart rate with LED lights that swing back and forth to show your health. The Withings Steel is compatible with most major fitness apps and can track fitness and sleep patterns.
See more: withings.com
When looking for the best sports watch, knowing the best sport watches for men is a great start, but knowing the ten best brand and which is best for a specific sport, athletes are even more valuable. Below are answers for the best brands, best watch for athletes, and the most accurate.
FAQ About Best Sport Watches
What are the top 10 sports watch brands?
The top 10 sports watch brands for men include the following:
1. Fitbit: Fitness tracking is at the heart of Fitbit. This brand offers the best sport watches for athletes, hiking, and running, surfing, and it is one of the most accurate. Fitbit is also one of the best brands for fitness tracking wearables today. The company offers a variety of trackers, advanced models, and weather standards at various price points.
2. Garmin: Now is the time to choose a Garmin model. Garmin has an ever-growing selection of fitness and running watches, making it difficult to choose the right one. Garmin watches feature a transflective display, provide heart rate monitoring, and are water-resistant to 50 meters.
3. Suunto 9 Baro: This brand is good for runners and hikers. Suunto has been renowned for creating timepieces that cater to sports events and outdoor activities. Thanks to its wide range of attractive designs, heavy-duty capabilities, long battery life, management options, and customizable battery. The batteries can run for up to 170 hours and offers plenty of performance features.
4.Polar Ignite: This brand is great for the active lifestyle. This lightweight and durable features GPS technology and advanced wrist-based heart rate technology, wrist-controlled music, weather reports, and push notifications.
5. Polar Grit X: This brand brings you rugged watches that are good enough for the military but stylish enough for a date night. The watches are perfect for hiking, biking, and pretty much anything else related to mountains and hills with activity tracking capabilities.
6. Apple Watch: The Apple brand offers a variety of features to help you reach your health goals. The watches feature GPS tracking, workout metrics, a compass, a fall detector, an elevation indicator, and an emergency SOS function, making them ideal for trail runners.
7. Samsung Galaxy Watch: Samsung offers a sports hybrid watch with traditional features. You can also choose from over 50,000 watch faces. The watches can track seven popular activities automatically, monitor your sleep, and are Android and iOS compatible with Samsung Pay and Bixby voice activation.
8. Withings Steel HR: This brand offers stylish, simple, and rugged designs. The watches feature GPS, Smart Alarm, and Sleep Score. The brand also provides texting, emailing, and notifications.
9. Casio: This brand is cool, stylish, durable, and affordable. With its G-Shock series, the company has created several innovative features designed specifically for outdoor and exercise use. There are features such as vibration, gravity, shock, low temperature, vibration, and water resistance. The series integrates six bands of radio technology, a hybrid GPS, and an energy-efficient GPS for accurate time worldwide.
10. Fossil Hybrid: This brand offers more traditional-looking watches. Some features include weather notifications, music, and access to iPhone and Android devices. The app can also track your sleep, heart rate, and activity. A brand offers customizations of the face of the watch so that you can choose the dial style, the button, and the information display. You can also choose from other Fossil wristbands to match your outfit.
Which sports watch is most accurate?
According to studies, GPS-enabled sports watches are workable and valid methods for measuring performance. The Garmin Forerunner 945 is a top-rated watch. It packs GPS and everything else. Location tracking and biometrics are incredibly accurate, and it comes equipped with a variety of training tools to help you improve.
What watches do athletes use?
Fitness is important for overall wellness, but it is only one factor. Blood pressure, sleep patterns, body temperature, stress levels affect health. There are a number of brands athletes use, Garmin, Suunto, Apple, and Fitbit. However, Fitbit offers a comprehensive, everyday view of your body for athletes. With top-notch sensors, like optical heart rate monitoring and infrared oxygen saturation monitoring, it can track a variety of activities, as well as offer guided workouts. In addition to health metrics, it can also receive calls and texts when paired with a phone and accept wireless payments. This watch is the best sports watch for men and athletes.
Find the Ideal Sport Watch for You
A good sports watch comes with a lot of computing power, features sensors for measuring a variety of metrics, and can be used for a lot of different sports. You can find sports watches for under 1000 dollars. Many are listed above. Price and features are important when choosing a sports watch. The best sport watches for men include key features including GPS, a heart rate monitor, weather-resistant material, interactive displays, and third-party app integration. Depending on your activities, you may want to consider additional features like music streaming, solar charging, and tide forecasting.