The best beef jerky brands and products offer more than a protein delivery system. The most important question to ask when figuring out which beef jerky brand is right for you: what does the jerky taste like? Taste and texture go hand-in-hand. Jerky usually ranges from being the traditional dry chew to being tender and moist.
10 Best Beef Jerky Brands Available Online
Most people unequivocally prefer one texture over another. Protein content is another major aspect to consider when trying to find the best jerky brand. To attract the most customers, Popular beef jerkies are available in a variety of textures, flavors, and nutritional values. However, the best beef jerky brand is the one that makes the right balance of these things for you.
1. EPIC Spicy Traditional Beef Jerky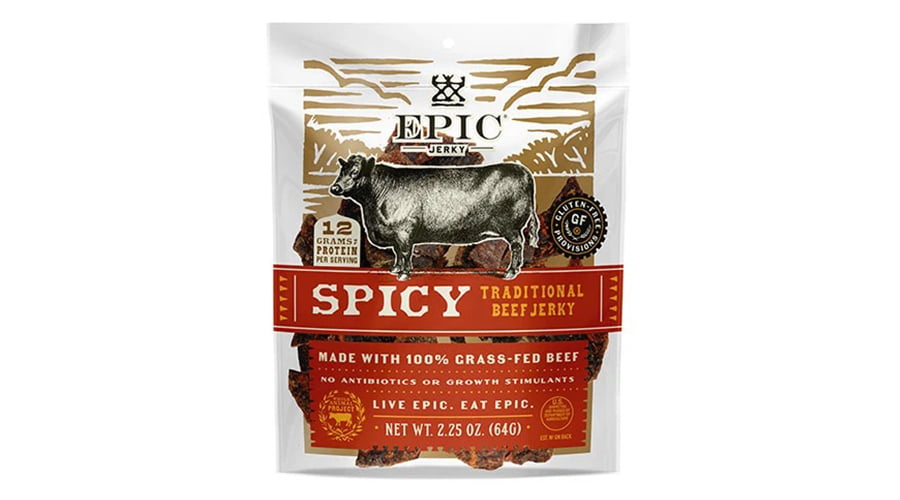 See more: epicprovisions.com
If you like old-fashioned jerky that is tough and needs lots of chewing, EPIC's traditional offering is up your alley. Grass-fed beef is generally leaner, which contributes to this jerky's chewy texture. On the nose, this jerky is spicy and sweet. Seeing pineapple juice, maple sugar and coconut nectar in the ingredients would give the impression that this jerky is sweet. However, it is the spicy flavors that shine brightest in EPIC's spicy traditional beef jerky. Each serving packs a protein punch of 12 grams. For those who do not eat beef jerky by the bag, this jerky is available in a resealable pouch. Gluten-free and paleo-friendly, this jerky is a wonderful amalgam of tough texture, classic flavor, and a spicy finish. EPIC's spicy beef jerky is a great choice for those who prefer jerky the old-fashioned way.
2. Field Trip Snacks Original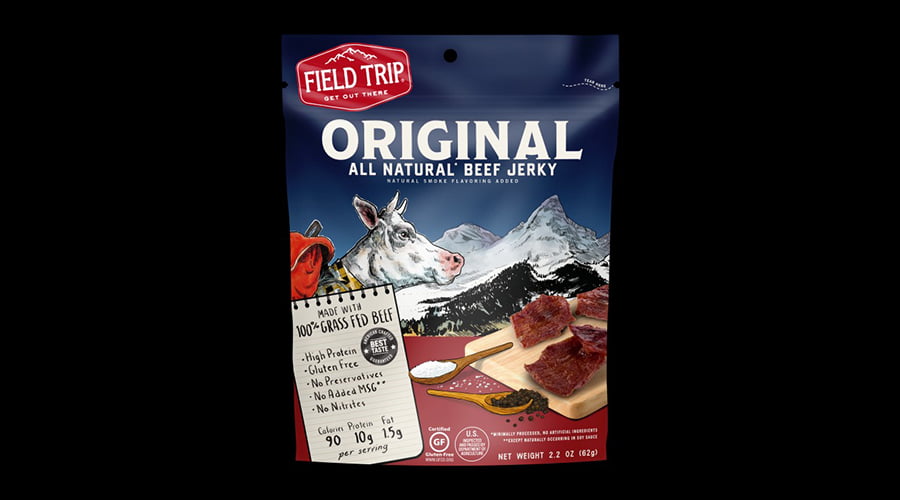 See more: fieldtripsnacks.com
Smoky, sweet, and chewy, Field Trip Snacks Original beef jerky is great for those who like a little peppery protein in their lives. Not everyone enjoys aggressive head jerking to eat beef jerky, and Field Trip's offering offers that tender texture. Made from lean, grass-fed beef, Field Trip's beef jerky is full of flavor. Hickory smoke gives Field Trip's jerky an intense, smoky smell and flavor. The combination of hickory smoke, pepper, and just a hint of sweetness is a flavor combination that you will either heartily enjoy or thoroughly dislike. Beyond the taste, one serving of this beef jerky contains 10 grams of protein. Even though there is a sweet taste, Field Trip Snacks worked to reduce sugar as much as possible. For those who enjoy smoke and pepper flavors with a tender texture, Field Trip Snacks Original is delicious.
3. Country Archer Teriyaki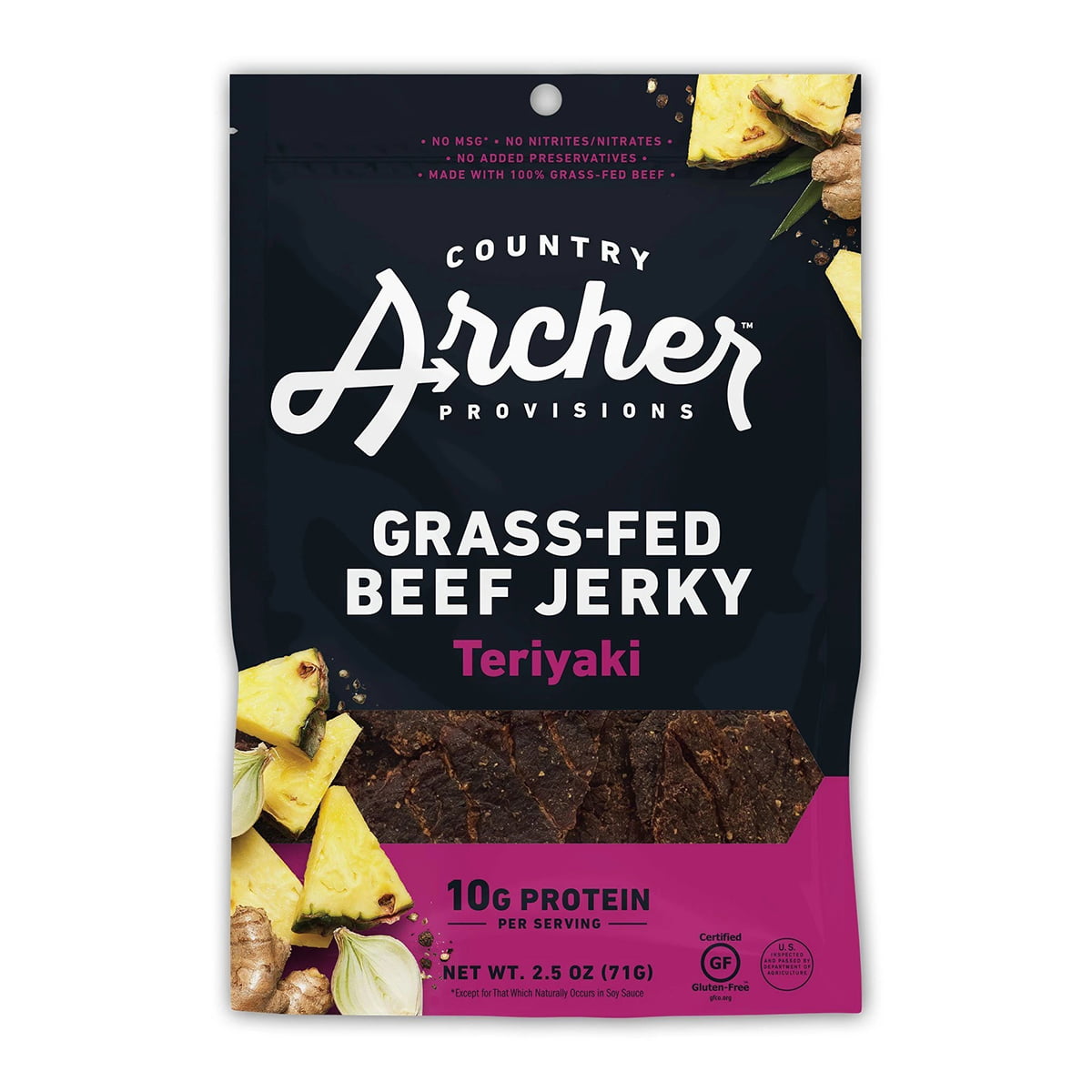 See more: countryarcher.com
The Country Archer Teriyaki beef jerky tastes exactly how a teriyaki-flavored beef jerky should. Tender in texture with a delicate interplay of pineapple, soy sauce, Worcestershire sauce, and ginger, this jerky is a delight to the palate. With no flavor preservatives, nitrates, or nitrites, Country Archer Teriyaki's beef jerky has a more natural, small-batch taste. This jerky starts with a sweet and sour smell, lets the teriyaki flavor explode in the mouth, and finishes with a mild, smoky aftertaste. Jerky is not just about taste, though. Country Archer's jerky offers 10 grams of protein and 8 grams of sugar in each ounce. Grass-fed beef contributes to the robust flavor and fantastic texture. If you like your jerky so tough it takes an hour to chew, you will not like this jerky. However, if you prefer tender jerky and you like how teriyaki tastes, this is a great choice.
4. Brooklyn Biltong Steakhouse Flavor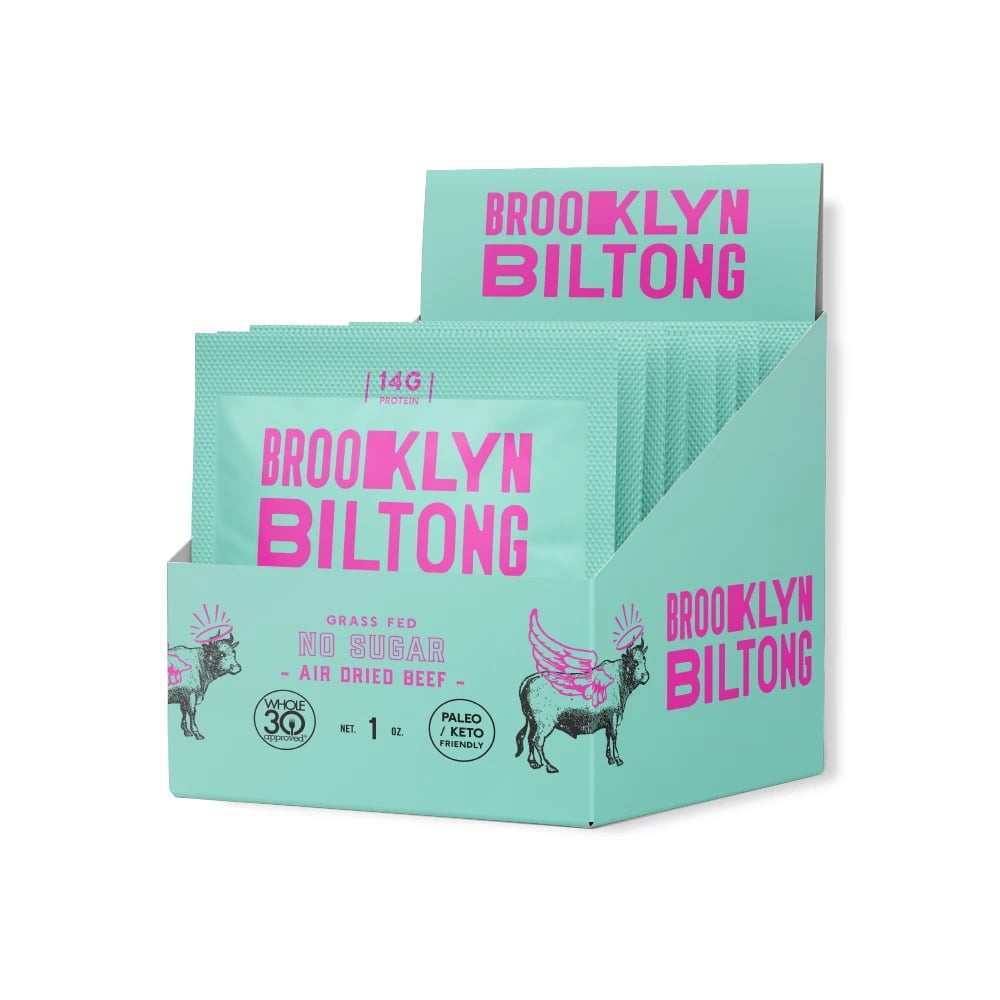 See more: brooklynbiltong.com
While not strictly "jerky," biltong is meat cured in a vinegar marinade, air-dried, and cut into pieces. It is cut into thicker pieces and is texturally much moister than traditional beef jerky. If you are eating a high protein diet, you know how difficult it can be to get enough protein every day. The Brooklyn Biltong company's steakhouse flavor makes that a lot easier. Steakhouse tastes like garlic, ginger, and chilies are an absolute delight when paired with biltong's toothsome texture. With 12 grams of protein and zero grams of sugar, this biltong is a powerful way to get what you need. Even the crumbs left in the bag can be sprinkled on other foods to provide a nutritiously delicious upgrade. If you are looking for some variety or jerky is not your favorite, try giving this steakhouse biltong a chance.
5. Chef's Cut Real Jerky Co. Chipotle Cracked Pepper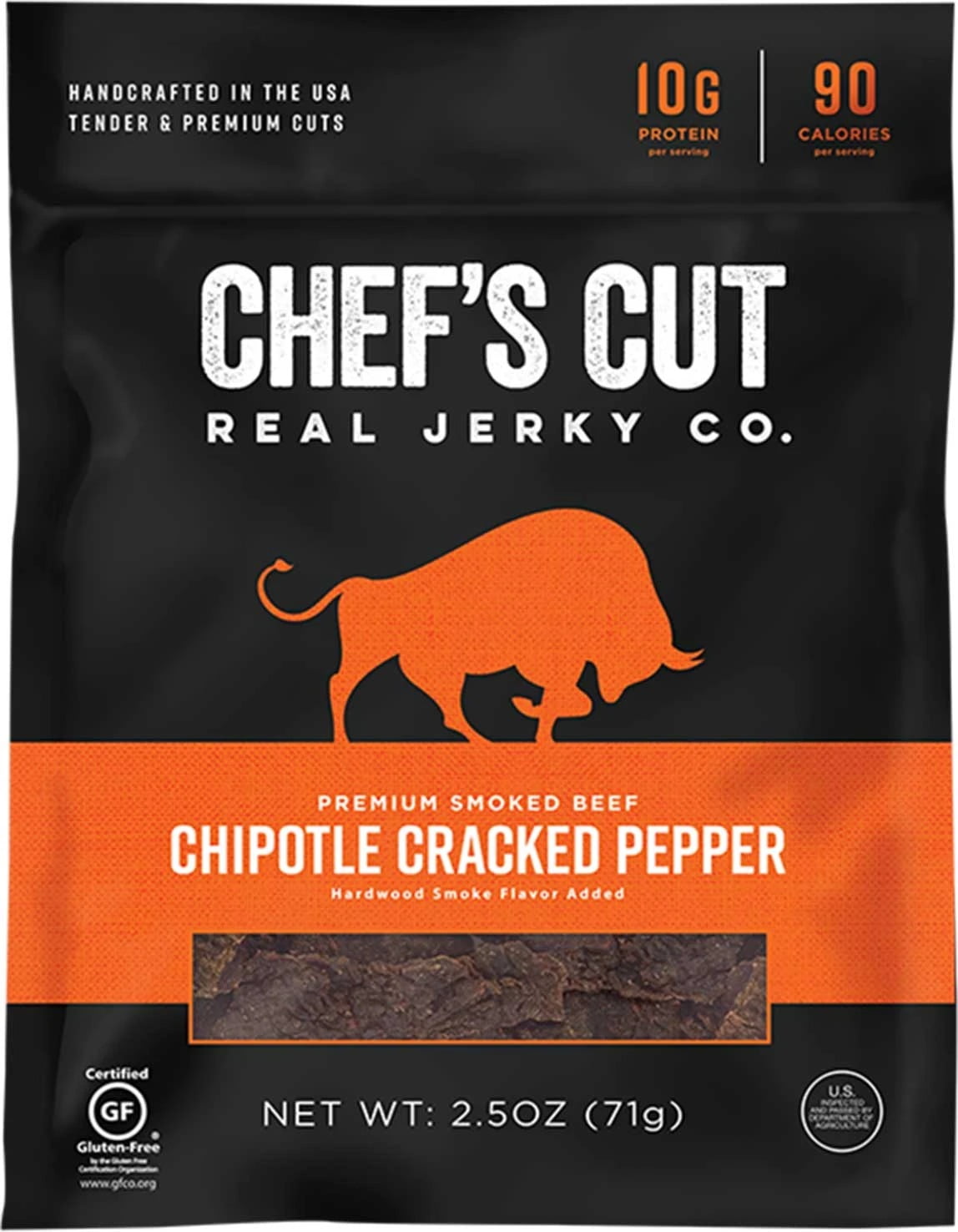 See more: chefscutrealjerky.com
Made with jalapeños, this "chipotle cracked pepper," flavor is actually sweeter than it is spicy. The intoxicating mix of mild heat and sweet makes eating the bag in one sitting all too easy. Unlike other popular beef jerkies, it is made from the top-round sirloin of grass-fed beef. High-quality meat makes for an incredibly tender jerky experience. Chef's Cut jerky is not going to be a pleasurable experience for those who enjoy tough jerky. However, if you prefer tender, steak-like jerky, Chef's Cut jerky may be the best beef jerky brand for you. Even though one of the primary tasting notes was sweetness, there are only six grams of sugar in this jerky. Paired with 10 grams of protein and gluten-free, this jerky is a tasty way to consume protein.
6. People's Choice Hot & Spicy Beef Jerky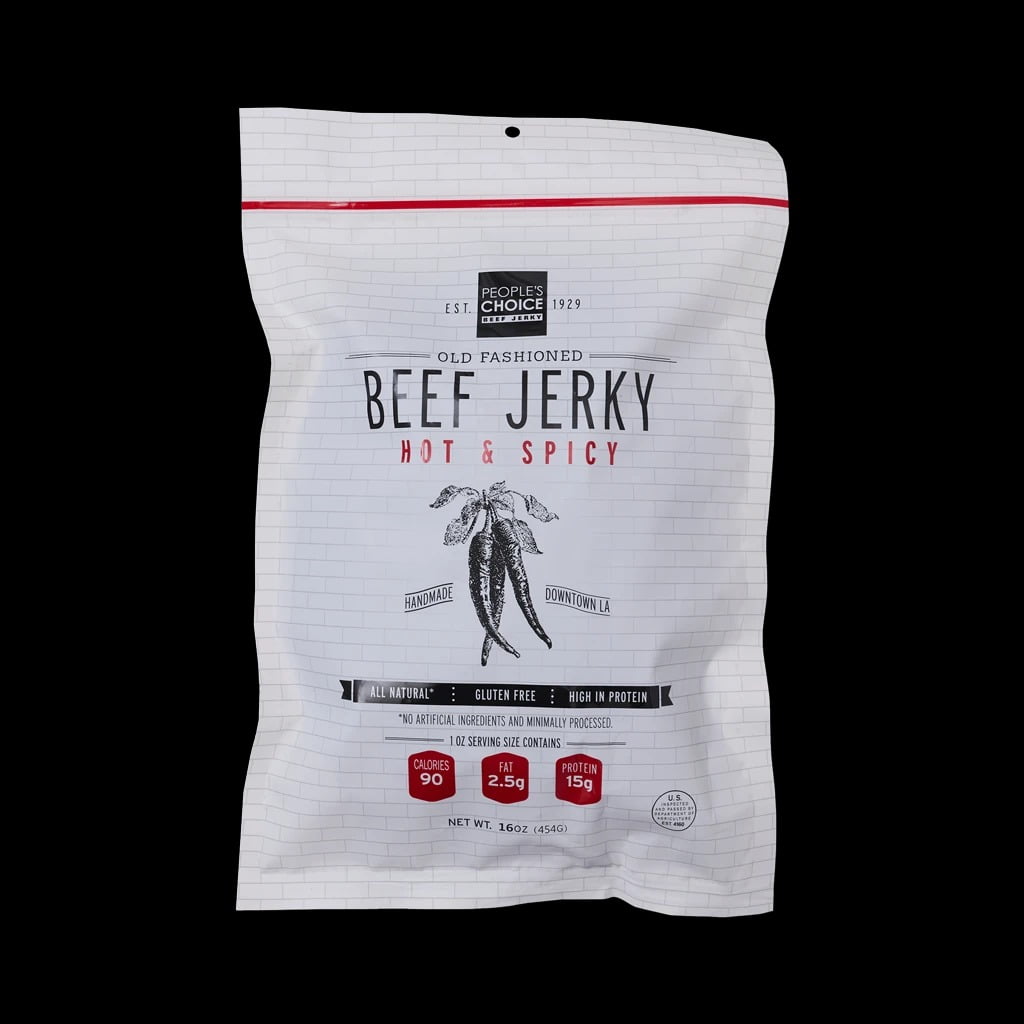 See more: peopleschoicebeefjerky.com
This jerky is not tender — it is the kind of old-school jerky that takes some chewing. From the first bite, this jerky is bursting with robust, meat flavor. There is enough heat to keep things interesting, but not so much that it overloads your sinuses. Texturally, this is the kind of jerky that takes a few minutes to eat. Generously cut into big pieces, this jerky is made from grain-fed beef. Usually, that means more fat than lean, but that is an advantage in this case. Because the traditional-style People's Choice jerky is cooked for five hours, the fat actually dissolves into the flavor. The result is a flavorful jerky with a whopping 15 grams of protein per serving. Instead of being a tasteless protein delivery system, People's Choice old-fashioned jerky is chewy, spicy, and overflowing with meaty flavor. This hot and spicy offering from People's Choice is undoubtedly some of the best beef jerkies online.
7. Think Jerky Sesame Teriyaki Beef Jerky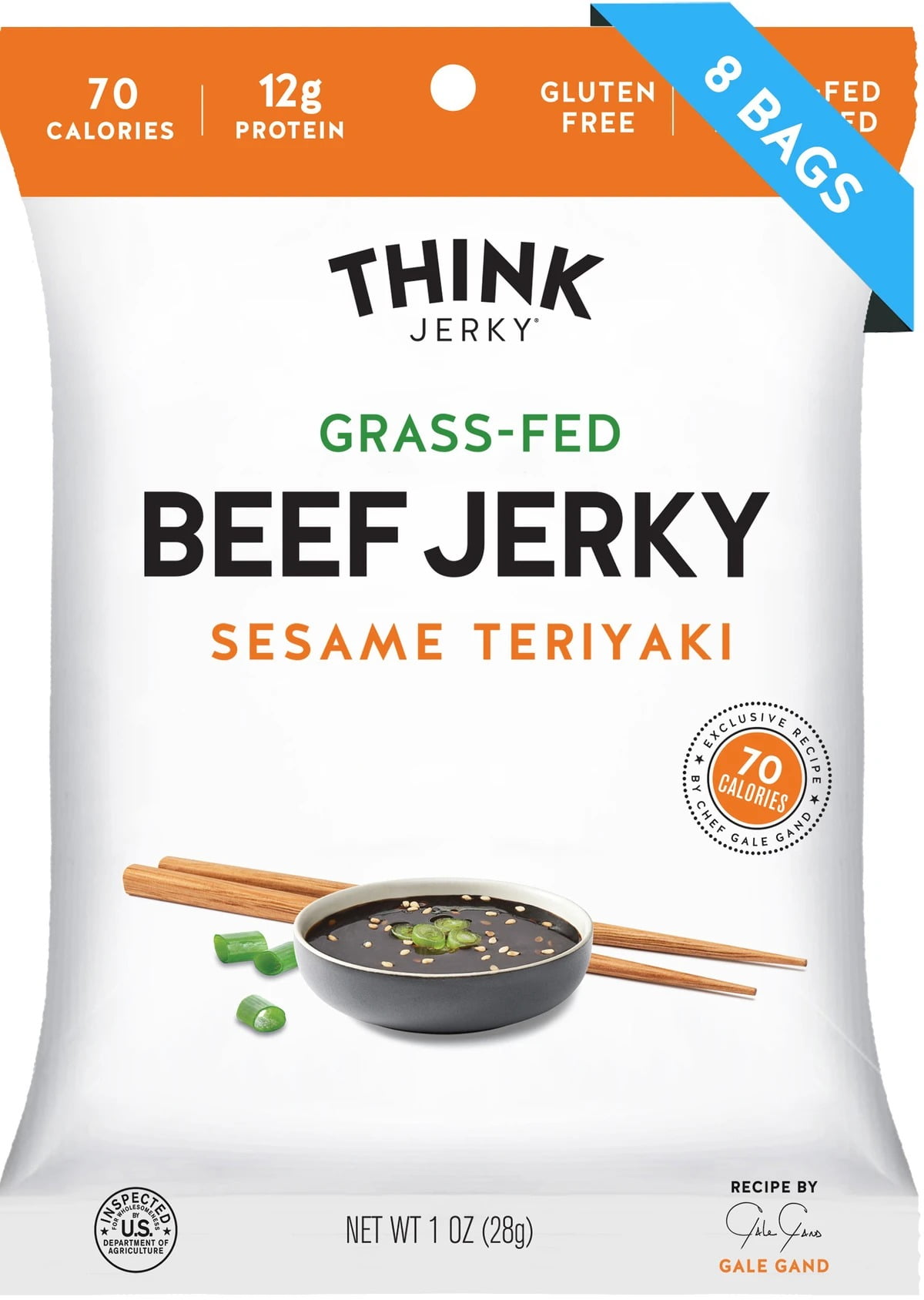 See more: thinkjerky.com
As this jerky's flavor profile was designed by a Michelin-Star chef, the sesame teriyaki flavor is nuanced and delicious. If you prefer moist, tender jerkies, this jerky is an enjoyable eating experience. For those who prefer dry, chewy jerkies, you may want to skip this one. One of the higher-protein jerkies, Think's Sesame Teriyaki jerky has 12 grams of protein in a serving. That is unusual for the tender-style jerkies because a higher protein content per serving is usually achieved through drying the jerky longer. If you prioritize a company that does not use ingredients that have been genetically modified using modern technology, Think is the best jerky brand. Think relies on U.S. grass-fed beef and are proud that their jerky is free of gluten, nitrates, added hormones, and added antibiotics. Think produces a tender, nuanced teriyaki jerky with lots of protein and using ingredients that are not genetically modified using modern technology.
8. Perky Jerky Seoul Beef Jerky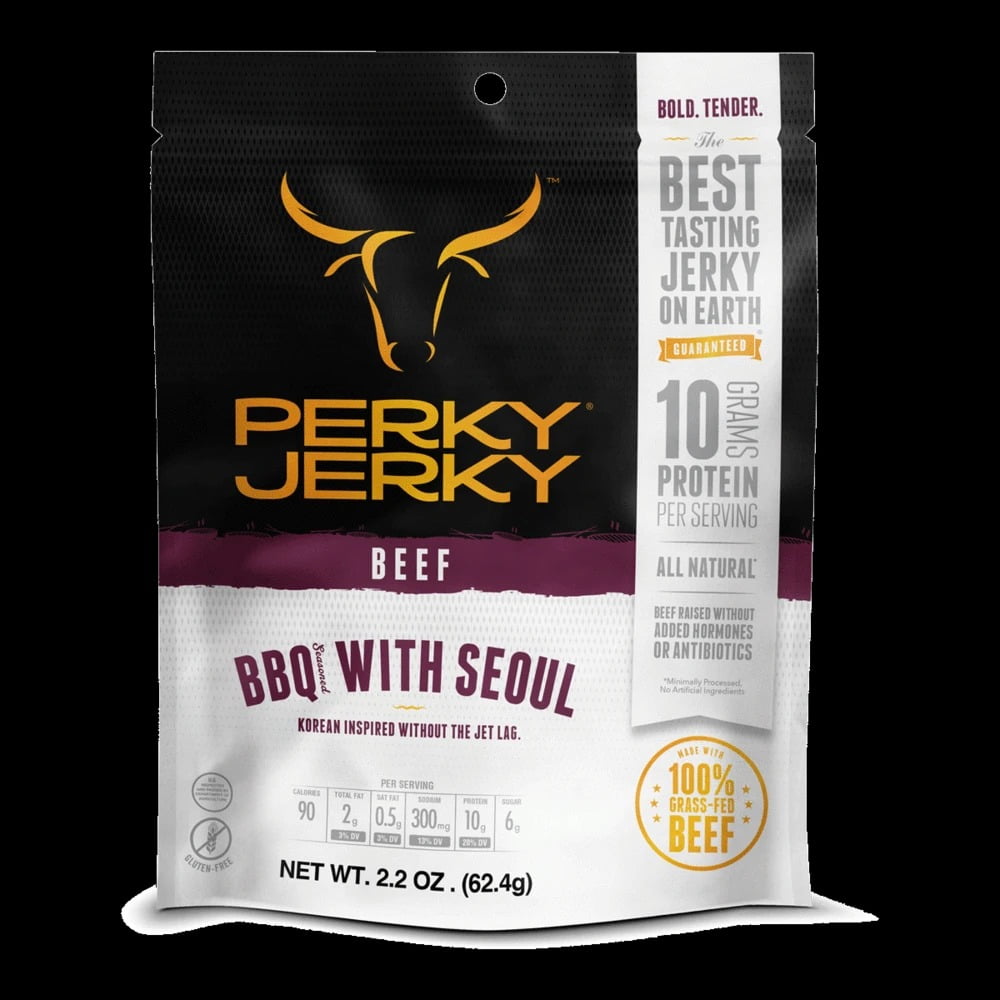 See more: perkyjerky.com
If you like Korean barbecue flavor and tender jerky, you will probably like this jerky. It is bold but has lots of complex subtleties that make it complex. One reason this jerky has such intense flavor is the way it is made — each piece is marinated overnight for maximum flavor. After being marinated, the jerky is dried. However, instead of being dried to traditional, chewy levels, it is left moist and tender. With that moist texture and great flavor, it delivers 10 grams of protein in every serving. Despite the sweet notes, there are only six grams of sugar per serving. Grass-fed beef is used to make a leaner jerky. Made from all-natural ingredients, this gluten-free jerky offers lots of benefits while retaining a tender texture and some dynamic flavors.
9. Blue Ox Cracked Pepper Smoked Beef Jerky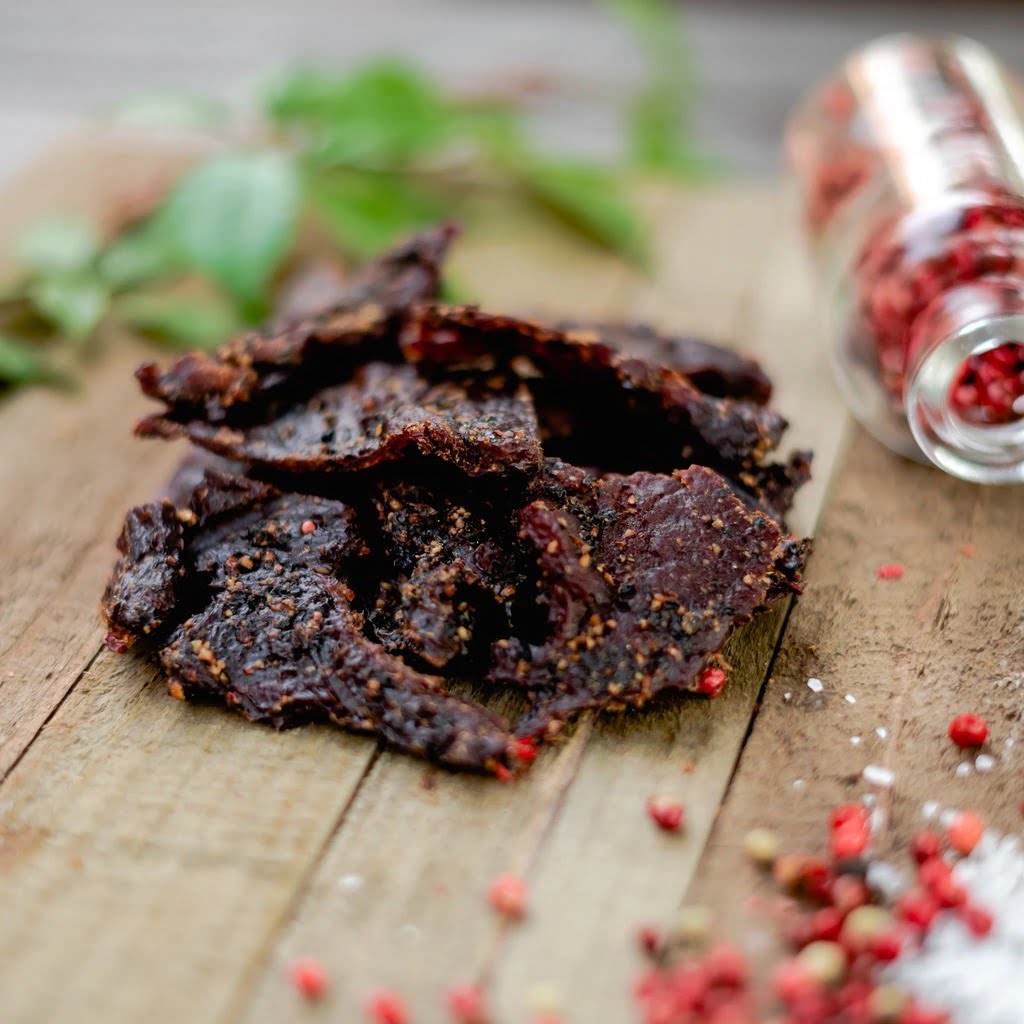 See more: blueoxjerky.com
Blue Ox jerky focuses first on the meat: only top-quality cuts are smoked. This jerky focuses on bold peppercorn flavor with a slight tingling of sweetness. For fans of black pepper, this jerky is nirvana. On the texture scale, this jerky falls in the middle — it is not as hard to chew as traditional-style jerky, but it is not as tender and juicy as some of the other jerky options. Blue Ox is focused more on taste and quality than on nutrition, and this jerky only offers about 6 grams of protein per serving. With packaging that reads, "Our jerky punches gas station jerky in the face," Blue Ox is the best beef jerky brand for tongue-in-cheek ridiculous marketing. For people who enjoy how cracked peppercorns taste and prefer one focus on one flavor over too many flavors, Blue Ox cracked pepper smoked beef jerky is the best beef jerky brand.
10. The New Primal Sea Salt & Pepper Jerky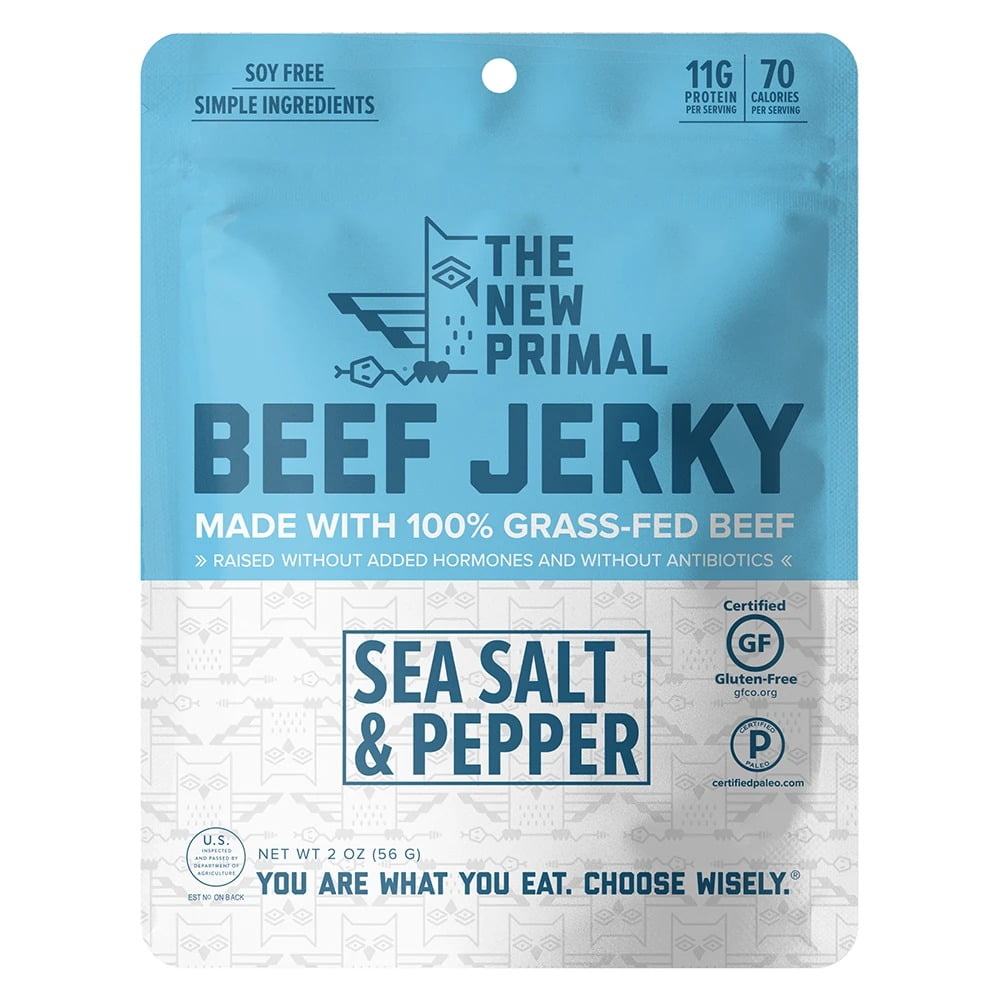 See more: thenewprimal.com
The New Primal's focus with their jerky is to provide a pleasant snacking experience with nutritious beef jerky. However, that does not mean that this jerky is not tasty, because it is. Meat dominates the palate, with subtle hints of pineapple, ginger, onion, and pepper. Texturally, it compromises. This jerky is more tender than a traditional-style jerky but is chewier than more tender offerings. With 11 grams of protein and only four grams of sugar per one-ounce serving, The New Primal's Sea Salt & Pepper Jerky is one of the most popular beef jerkies to snack on all day. When trying to figure out the best paleo-certified beef jerky brand, The New Primal should definitely be considered. Using grass-fed and grass-finished beef contributes to the high protein and lean taste. If you are looking for an upgrade to your protein delivery system, The New Primal is definitely worth considering.
1. Who makes the best jerky?
This depends on your preferences. The best beef jerky brand for you is the one that makes jerky at your optimal textural level (chewy versus tender) with flavors you enjoy and the nutritional content you need. The list above highlights the best beef jerky online, as well as several popular beef jerkies. If one of the flavors does not match your preferences, the best beef jerky brands often make a variety of flavors. In general, The New Primal makes the most healthful beef jerky and Blue Ox makes the tastiest beef jerky.
2. What is the most tender beef jerky?
While not technically jerky, Brooklyn Biltong is the most tender cured meat on this list. If biltong is not for you, you might try Chef's Cut or Think's jerky. Chef's Cut is made from top-sirloin steaks and definitely retains that steak-like texture. Think's jerky is not only flavored by a Michelin-starred chef but also offers a tender chew. If the flavors on this list for these brands do not sound good to you, each of these brands makes other flavors.
3. What is the healthiest brand beef jerky?
Because of its balanced texture, high protein, and low sugar, the best beef jerky brand for healthy snacking is The New Primal. However, it is not as flavor-forward as other popular beef jerkies. If you are comfortable with a more traditional jerky texture, People's choice is the way to go. If traditional, chewy jerkies are not your style, you might want to try Brooklyn Biltong. Biltong has a different texture than jerky but offers that high protein count without being really chewy.
4. Is beef jerky a healthy snack?
Depending on what variety you purchase, yes. Beef jerky provides lots of protein and iron but can have higher levels of sodium and sugars. As shelf-stable dry meat, it lasts a long time without the food safety issues that more perishable snacks have. If eaten in moderation and varied with other healthful foods, beef jerky is a healthful snack option.
5. What kind of beef makes the best jerky?
Leaner cuts of beef traditionally make the best beef jerky, as larger amounts of fat can go rancid. There is debate over grass-fed versus grain-fed beef which is a blog-sized issue in itself. Grass-fed beef tends to be leaner, which makes it more desirable for making jerky. Some jerky brands include labels on their packages like "antibiotic-free" or "hormone-free." Does that mean it is better jerky? In the United States, all meat is required to be antibiotic-free when it is processed. The "antibiotic-free" label, then, does more to give the consumer peace of mind. Hormones are part of every mammal's life. Extra hormones can be added to finish the beef faster. Seeing these labels on the packaging means that these companies are trying to attract more eco-conscious customers.
10 of the Healthiest and Most Delicious Beef Jerky Brands for Men
The best beef jerky brand is the one that makes jerky that you want to eat. Because everyone's preferences balance at a different place on the texture, flavor, and nutrition scale, there is no single best beef jerky brand. Some beef jerky brands strive to make the most nutritious beef jerky while others work hard to offer the most flavorful. Whether you eat beef jerky for additional protein or for some light snacking, the above list is some of the best beef jerky online. I hope this information is helpful to you as you embark on the adventure to find the perfect beef jerky for you.